On Saturday, January 20, 2018 six AAUW Carlisle members plus out-of-town friend and two spouses
caravanned to Gettysburg to join the Women's March Gettysburg in support and celebration of the first anniversary of this historic movement.
It was especially fitting that marchers gathered at Lincoln Square which honors our great President Lincoln and his "Gettysburg Address".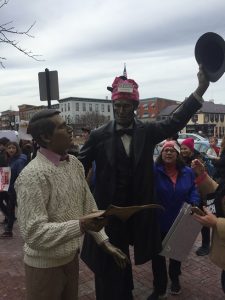 The event kicked off with a warm welcome to several hundred marchers followed by speeches from local citizens, community leaders and politicians.  After rallying the crowds, leaders launched the march which meandered through downtown Gettysburg from Lincoln Square to Unity Park.