July 1, 2017 to Present
For the fourth year, AAUW Carlisle registered voters at the Carlisle Harvest of the Arts festival (September 23).  With volunteers from League of Women Voters, Cumberland Valley Rising, and the AAUW Dickinson College  we registered 18 new voters.  Just as important, we answered dozens of questions and highlighted the importance of making our voices heard by voting on November 7.
October 12
Redistricting Matters:  A Nonpartisan Consensus for Cumberland County

About 80 people (many AAUW members) attended the October 12th Redistricting Matters:  A Nonpartisan Consensus for Cumberland County.  AAUW Carlisle worked in co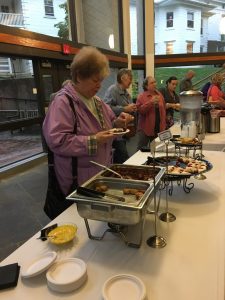 llaboration with Fair Districts PA—Cumberland Valley, YWCA Carlisle and Cumberland Valley Rising to organize the evening which included a presentation and panel discussion on all aspects of gerrymandering.
Gerrymandered district lines weaken the p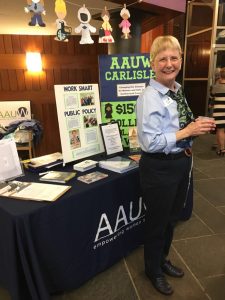 ower of our votes.  Incumbents draw lines that protect their seats.  Politicians feel safe—so they ignore issues you care about.  Gridlock worsens in Harrisburg and Washington.  People feel powerless and voter turnout goes down.  Both parties are guilty.  Which is why we must pass redistricting reform in Pennsylvania before the 2020 census.
Program and panel discussion covered:
Overview of gerrymandering
Why redistricting reform is important to Cumberland County
Why redistricting reform is important to your municipality
PA legislation (HB722 and SB22) and the constitution amendment process
Public Interest Law Center suit on behalf of the League of Women Voters of Pennsylvania
Wisconsin case before U.S. Supreme Court on partisan gerrymandering
P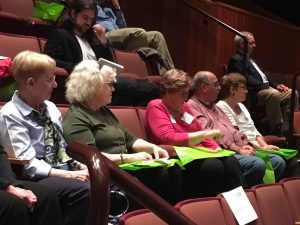 anelists
Moderator Sarah Niebler, Assistant Professor of Political Science at Dickinson College
Vincent DiFilippo, Chair, Cumberland County Commissioners
Nancy Konhaus Griffie, Chairman Silver Spring Township Board of Supervisors
Ron Skubecz, Fair Districts PA—Cumberland Valley
Suzanne Almeida, Esq., Executive Director League of Women Voters of PA
July 1, 2016–June 30,2017
This was a busy and successful year for Public Policy thanks to the dedication of the committee members, support of the Board, and volunteers.  We registered the most Public Policy events/activities of any Pennsylvania branch—19 in total—and continued successful collaborations with the LWV, MomsRising, YWCA Carlisle and added Employment Skills Center.
Highlights of this year include three new projects.  Topic Talks is a "book group" exploring public policy issues.  Attendees read material prior to attending an informal gathering where a subject matter expert introduces the issue followed by group discussion.  Equal Pay was the first topic.  Know Your School Board Candidates questionnaire is the second new project.  Fulfilling the AAUW mission of voter education and supporting public education combined with the knowledge that school board races are some of the least covered led us to this project of sending questionnaires to the candidates in Big Spring, Carlisle Area, Cumberland Valley, and South Middleton school districts.  A voter guide for each school district was created.  The third new project was delivering a Work Smart workshop.
Below is the list of Public Policy events/activities in addition to the projects mentioned above.
Equal Pay
GOTV (Get Out The Vote)

Voter Registration events.

Harvest of the Arts (September)
Employment Skills Center (September)

Collaborated with MomsRising to send 50 postcards to "not likely to vote" persons in swing states
LTE in The Sentinel and Shippensburg News Chronicle
Co-sponsor Carlisle Area School District school board candidate forum with LWV and YWCA.
Title IX
Emailed CRDC and Title IX resources to twenty-six school districts in Cumberland, Adams, Perry, and Franklin counties.
Members attended Carlisle Area and Cumberland Valley school district board meetings to present CRDC results and urge accurate reporting of sexual harassment and gender based bullying.
---
July 1, 2015 to June 30, 2016
Voter Registration events leading up to the November 4, 2015 Pennsylvania municipal election, April 26, 2016 Pennsylvania primary, and November 8, 2016 national election

Harvest of the Arts on September 26, 2015
Carlisle Black History Festival on February 27, 2016
YWCA Social Justice Night on March 15, 2016
Dickinson College AAUW Collegiate Affiliate event on March 22, 2016

Voter Education

Co-sponsor of Cumberland County Commissioner's Forums on May 12, 2015 and October 15, 2015.

Equal Pay Day April 12, 2016

Public Policy Co-Chairs visited the office of Representatives Bloom and Rothman to discuss HB1160
Wrote OpEd in The Sentinel to highlight Equal Pay Day
Several members participated in the Equal Pay Day Rally at the Capitol Rotunda

Title IX

Distributing new U.S. Department of Education resources to Title IX Coordinators in Big Spring, Carlisle, Cumberland Valley, Mechanicsburg, and North York County school districts

Income Inequality

September 22, 2015 meeting "Income Inequality"

STEM

October 26, 2015 meeting "Why So Few? Women in Science, Technology, Engineering and Math"
---
Community Outreach
The AAUW Carlisle Branch was a major supporter of Building a Better Bosler campaign to renovate and enlarge the Carlisle public library.