July 1, 2018 — June 30, 2019
May 15, 2019 — Carlisle Area School District School Board Candidate Forum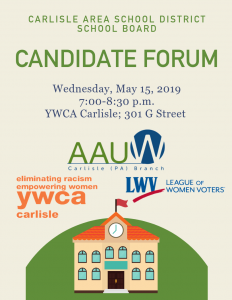 Ahead of the May 21st primary, we are partnering with YWCA Carlisle and LWV Carlisle, to hold a candidate forum for the CASD School Board candidates on May 15, 2019 from 7:00 – 8:30pm at the YWCA Carlisle.  All six candidates have agreed to attend.
April 4, 2019 — Zero Weeks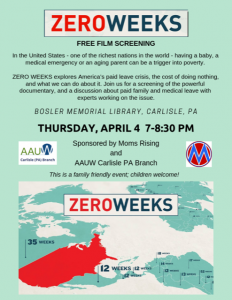 AAUW Carlisle, along with Moms Rising and Cumberland Valley Rising, hosted a screening of the documentary Zero Weeks at the Bosler Library. This moving film exposes the lack of paid family leave and the crisis American families experience when faced with the birth of a child or needing to care for a sick family member.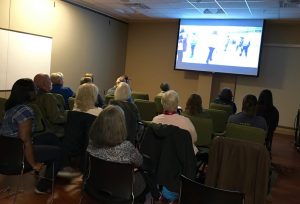 The film stimulated an animated audience discussion, followed by a call to action to support proposed federal and state Paid Family Leave legislation.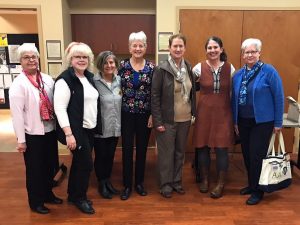 January 19, 2019 — Women's Rally on the Square
Thrilled to be the catalyst for this event and honored to work with awesome co-sponsors.  Check here for more information.
October 18, 2018 — 10th Congressional Debate
Televised by WGAL with lots of AAUW mentions.  And a watch party at Bosler Library.  Click here for full details.
October 5, 2018 — 199th Candidate Forum
AAUW Carlisle partnered with YWCA Carlisle to host a candidate forum for the 199th Pennsylvania House district.  Look here for a full account.
August 7, 2018 – Simple Truth Equal Pay Event
AAUW Carlisle partnered with Hope Station, Bethel AME Church, and the YWCA Carlisle and held a community meeting on August 7, 2018, Black Women Equal Pay Day, which spotlighted gender pay inequities, in particular for women of color. The evening was a success with interested attendees signing up for Action Alerts in order to stay informed and engaged with  this issue from a legislative perspective. And, organizers are already planning how to bring Work Smart, AAUW's salary negotiation workshop to Carlisle.  Look here for the full account.
September 22, 2018 – Voter Registration at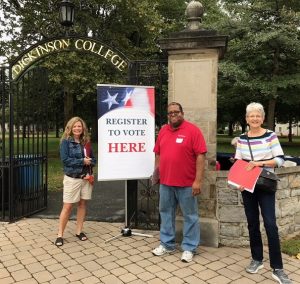 Harvest of the Arts
Twenty eight volunteers from AAUW Carlisle and Cumberland Valley Rising manned clipboards and mingled with the crowds to sign up voters before the Oct. 9th deadline.  Always fun to strategize with DIckinson students about where they should vote–home or here.  Answered many questions about the absentee ballot process.  Fun day providing this valulable civic outreach.
July 1, 2017 to June 30, 2018
Coalition partner with several organizations Pennsylvania Campaign for Women's Health's Community Conversations event in Carlisle on July 19, 2017. The conversations focused on a wide range of issues affecting the health and economic well-being of Pennsylvania women and their families, as well as legislative solutions that will help the commonwealth improve its continually abysmal rankings in key indicators of women's health and economic security. Check out the report, especially page 7 for a recap of the Carlisle event.
For the fourth year, AAUW Carlisle registered voters at the Carlisle Harvest of the Arts festival (September 23).  With volunteers from League of Women Voters, Cumberland Valley Rising, and the AAUW Dickinson College  we registered 18 new voters.  Just as important, we answered dozens of questions and highlighted the importance of making our voices heard by voting on November 7.  Voter Registration at Harvest of the Arts on September 23, 2017.
September 26, 2017 branch meeting was AAUW and Public Policy. Nancy Sigrist, Public Policy Chair, provided a general overview of how AAUW identifies the Public Policy Priorities. Randi Teplitz and Megan Healey spoke about the work of the Pennsylvania Commission on Women–illustrating the impact of public policy advocacy.
Redistricting Reform: A Nonpartisan Consensus for Cumberland County on October 12, 2017.
Letter to the Editor in The Sentinel on October 22, 2017 urging colleges and universities to continue to follow the previous Title IX guidelines in the face of Secretary DeVos' interim guidelines.
October 24, 2017 branch meeting, Dee Danser, Assistant VP of Student Life and Chief of Public Safety, Dickinson College presented Title IX and Sexual Assault Prevention at Dickinson College.
Carlisle Area School Board Candidate Forum on October 25, 2017.
Topic Talks — our book-group-like discussion of public policy topics explored AAUW research Barriers and Bias on November 7, 2017.
Letter to the Editor of The Sentinel on November 14, 2017 recognizing Latina Equal Pay day.
Letter to the Editor of The Sentinel on December 6, 2017 opposing SB2–Education Savings Accounts.
Conducted voter registration training for Hope Station Women's Group on February 13, 2018.
Registered voters at the Hope Station Black History Festival on February 24, 2018.
March 15, 2018 – Voter Registration at Project Share
Volunteers from our branch set up at Project Share for one of their food distribution days. Our goal was to offer Voter Registration support for the Project Share community. We successfully added citizens to the rolls of registered voters here in Cumberland County and provided information about our upcoming primary and general elections in 2018 to a myriad of people.
April 10, 2018 – Equal Pay Day at the Capitol
Several of our branch members joined AAUW members from across the state and our friends from BPW-PA (Business and Professional Women-Pennsylvania) in the capitol rotunda on Equal Pay Day, April 10, for a rally at 2:00 pm. We began our day at 11:00 am with a briefing for visits to our legislators. Then it was off to visit with our representatives to thank them for co-sponsoring the pay equity legislation or to encourage them to do so.
April 17, 2018 – Topic Talk on Title IX
Our Discussion Leader, Carlisle Schools Superintendent Christina Spielbauer, focused our discussion on the current response to the District's issues with bullying and sexual abuse or harassment.
May 14, 2018 – Topic Talk on Deeper in Debt
The evening focused on AAUW's research on the differential impact of student loan debt on women, and how we can work to level the playing field for women pursuing higher education. The discussion was facilitated by Branch member Peggy Jennings who served on the statewide committee that adapted this research for use by Pennsylvania AAUW Branches.
May 22, 2018 – Donation Drive for Carlisle C.A.R.E.S.
In honor of our Gateway to Equity Award winner, Shari Bellish, Executive Director and Founder of Carlisle C.A.R.E.S (now Community C.A.R.E.S.), at our May 22nd General Meeting our membership generously gathered together many items from the Community C.A.R.E.S. "wish list". we delivered 124.8 lbs. of donated items to Community C.A.R.E.S on Thursday, May 24th.
May 24, 2018 – AAUW Bylaws Voting Social
AAUW Carlisle member, Virginia Mueller, hosted a "voting open house" from 2:00 to 4:00 PM at her lovely home and art gallery, Hauto Zat Gallery. Members voted on the proposed AAUW by-law changes while admiring and discussing Virginia's art.
July 1, 2016–June 30,2017
This was a busy and successful year for Public Policy thanks to the dedication of the committee members, support of the Board, and volunteers.  We registered the most Public Policy events/activities of any Pennsylvania branch—19 in total—and continued successful collaborations with the LWV, MomsRising, YWCA Carlisle and added Employment Skills Center.
Highlights of this year include three new projects.  Topic Talks is a "book group" exploring public policy issues.  Attendees read material prior to attending an informal gathering where a subject matter expert introduces the issue followed by group discussion.  Equal Pay was the first topic.  Know Your School Board Candidates questionnaire is the second new project.  Fulfilling the AAUW mission of voter education and supporting public education combined with the knowledge that school board races are some of the least covered led us to this project of sending questionnaires to the candidates in Big Spring, Carlisle Area, Cumberland Valley, and South Middleton school districts.  A voter guide for each school district was created.  The third new project was delivering a Work Smart workshop.
Below is the list of Public Policy events/activities in addition to the projects mentioned above.
Equal Pay
GOTV (Get Out The Vote)

Voter Registration events.

Harvest of the Arts (September)
Employment Skills Center (September)

Collaborated with MomsRising to send 50 postcards to "not likely to vote" persons in swing states
LTE in The Sentinel and Shippensburg News Chronicle
Co-sponsor Carlisle Area School District school board candidate forum with LWV and YWCA.
Title IX
Emailed CRDC and Title IX resources to twenty-six school districts in Cumberland, Adams, Perry, and Franklin counties.
Members attended Carlisle Area and Cumberland Valley school district board meetings to present CRDC results and urge accurate reporting of sexual harassment and gender based bullying.
---
July 1, 2015 to June 30, 2016
Voter Registration events leading up to the November 4, 2015 Pennsylvania municipal election, April 26, 2016 Pennsylvania primary, and November 8, 2016 national election

Harvest of the Arts on September 26, 2015
Carlisle Black History Festival on February 27, 2016
YWCA Social Justice Night on March 15, 2016
Dickinson College AAUW Collegiate Affiliate event on March 22, 2016

Voter Education

Co-sponsor of Cumberland County Commissioner's Forums on May 12, 2015 and October 15, 2015.

Equal Pay Day April 12, 2016

Public Policy Co-Chairs visited the office of Representatives Bloom and Rothman to discuss HB1160
Wrote OpEd in The Sentinel to highlight Equal Pay Day
Several members participated in the Equal Pay Day Rally at the Capitol Rotunda

Title IX

Distributing new U.S. Department of Education resources to Title IX Coordinators in Big Spring, Carlisle, Cumberland Valley, Mechanicsburg, and North York County school districts

Income Inequality

September 22, 2015 meeting "Income Inequality"

STEM

October 26, 2015 meeting "Why So Few? Women in Science, Technology, Engineering and Math"
---
Community Outreach
The AAUW Carlisle Branch was a major supporter of Building a Better Bosler campaign to renovate and enlarge the Carlisle public library.