2017 Recipients
On March 28, 2017, the Carlisle branch recognized two organizations for their dedication to the AAUW mission — YWCA Carlisle and AAUW Dickinson Student Organization.
The Gateway to Equity Award was established by AAUW-PA to recognize an individual, group, organization or business that has shown by action and philosophy promotion of equity for women and girls through advocacy, education, philanthropy or r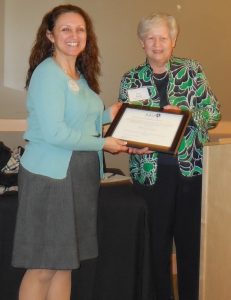 esearch.
Receiving the award for the YWCA Carlisle was Robin Scaer, Executive Director.  YWCA Carlisle contributes to women's equity through ongoing support of women with daycare, teen girl's leadership training, and youth after-school and summer programs.  The organization also operates the Sexual Assault/Rape Crisis Services of Cumberland County.  Most recently, YWCA Carlisle partnered with AAUW Carlisle by donating meeting space for an AAUW Work Smart workshop which trains women to overcome the gender wage gap and achieve pay equality.
Margot Abrahams, President of the AAUW Dickinson Student Organization, and on-campus leaders Maddie Jones and Angelica Mishra accepted the award on behalf of the newly established campus organization.  In its first year, the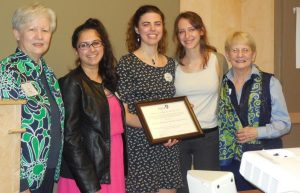 organization made an impact on campus by promoting all aspects of AAUW's mission:  voter registrations, equal pay, building campus and community coalitions and engaging in public policy conversations.  The organization sponsored a movie night screening of Iron Jawed Angels, and a Women's Career Social that featured female professors speaking about their careers.
The Gateway to Equity Award is not an annual event, and is awarded only when an individual or organization has clearly contributed to the advancement of women's issues and social equity.
---
PAST RECIPIENTS
2015
Patricia Vance, State Senator
Dawn Flower, Carlisle Borough Councilwoman
Jill Bartoli, AAUW Carlisle Branch member and PA House of Representatives Candidate
2014
Dickinson College President Dr. Nancy Roseman
2013
Noorjahan Akbar, Dickinson College student; former director, Young Women for Change, Afghanistan
2007
Cheryl Cook, Deputy Secretary for Marketing and Economic Development, Pennsylvania Department of Agriculture