What a Success!
So honored to partner with WGAL who hosted and televised the 10th Congressional debate, Thursday, October 18, 2018, between Scott Perry (incumbent) and George Scott. The debate was widely covered, by many news outlets, and received rave reviews for the moderators a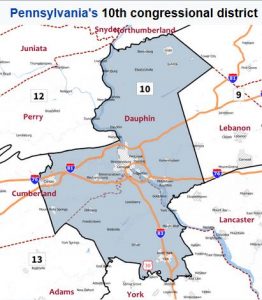 nd questions. We can't thank WGAL for their generous mentions of AAUW in promotions; an introduction segment featuring Ann Pehle with footage of preparing for the 199th Representative debate that ran in all news segments; podium logo; mentioned as co-sponsor of the debate; and two questions attributed to AAUW.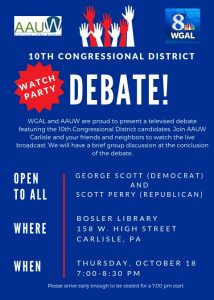 So, how did this come to be? As a result of the Pennsylvania Supreme Court decision, the US Congressional districts were redrawn and Carlisle is in the "new" 10th. That means, the incumbent, Scott Perry is new to Carlisle voters. We thought the best course of action would be to hold candidate forums for each race. Persistence pays! Our original thought was to hold the 10th Congressional on the Dickinson College campus. When one candidate refused our invitation and WGAL accepted our invitation to moderate, one thing led to another and it ended partnering with WGAL for a live, televised debate. We still wanted to have a local event, so held a watch party at Bosler Library.
If you missed the debate, watch it here. The first AAUW question on raising the minimum wage is in Part 1 at 6:50 minutes. The second AAUW question on the gender pay gap is in Part 3 at 3:49 minutes.
WGAL invited six AAUW members to attend the debate. Because the WGAL viewing area spans three branches, Carlisle, Harrisburg, and York, we had two representatives from each. Our role was to greet the candidates in the WGAL lobby as they arrived. We watched the debate in a conference room (there was no audience in the studio) and then met the candidates afterwards to extend our thanks for participating. Here are photos from the evening.