Tuesday, August 25     7:00 p.m.  ZOOM Webinar
Julia Jennings, Feminist:  One Woman's Pursuit of the Vote
Peggy Jennings, AAUW Carlisle member
In celebration of the 100th Anniversary of the passage of the 19th Amendment, our very own AAUW Carlisle member, Peggy Jennings, will be giving a presentation on her great aunt, Julia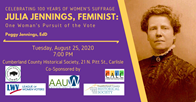 Jennings, a prominent suffragist.  Julia served as the Virginia legislative chair for the National Women's Party. Her advocacy for women's suffrage included participating in the now-famous demonstrations at the White House gates, and frequent lobbying efforts with state and national legislators.  Peggy has some wonderful artifacts from her aunt's suffrage activities that she will be sharing with us.  Recording
Tuesday, September 22, 2020   7:00 pm   ZOOM Webinar
Caught in the Crossfire: Judging in a Time of Political Turmoil
Today we are facing profound challenges to our democratic institutions. Increased polarization within the legislative and executive branches of go

vernment at both state and federal levels has hampered our ability to address present threats to the health of our citizens and to the economic well-being of our nation. But how have these challenges affected the work of the third branch of government, the courts? Three Central Pennsylvania trial court judges and the law school dean will discuss the various roles judges play in our legal system and how they carry out their responsibilities in today's politically-charged environment.
AAUW-Carlisle and the Women's Law Caucus of the Penn State Dickinson School of Law will present a webinar on Zoom exploring this question. We are honored to have three local trial court judges and the dean of the Penn State Dickinson School of Law participate for a panel discussion.
PANELISTS
The Honorable John E. Jones III, Chief Judge, District Court for the Middle District of Pennsylvania
The Honorable Jennifer P. Wilson, Judge, District Court for the Middle District of Pennsylvania
The Honorable Christylee L. Peck, Judge, Court of Common Pleas of Cumberland County
Danielle M. Conway, Dean and Donald J. Farage, Professor of Law, Penn State Dickinson School of Law
MODERATOR
Sarah Niebler, PhD, Associate Professor, Political Science Department Chair, Dickinson College
OCTOBER Series — Take The Fear Out Of Your Financial Journey
The October series discussed financial concerns unique to women. Conducting four one hour meetings over Zoom provided an opportunity to cover a wide range of topics. The discussion was led by four AAUW Carlisle members. Primary content was the responsibility of Beth McKinley, Financial Associate, Thrivent and Mary Brunski, Retirement Income Certified Profession©, Demeter Financial Services. They were joined by AAUW Carlisle Program VP, Stacey Gatch and, in week three by Joan Rockwell.
October 6:  Financial Conversations for Women
Financial Conversations for Women is a guided discussion that examines why women's financial issues are often different than men's. The topics are designed to help participants determine whether their retirement strategy is on track. By engaging with other women, participants will gain insights, ideas and strategies.
October 13:  Heart to Heart Conversations Part 1
Financial conversations with parents or your children don't have to be hard.  Many of us were raised not to discuss money, so where do you start?  How do you know if your parents are prepared for long term issues and how do you let your children or family know about your plans?  A lot of our members are in that "sandwich generation", so join us to learn how to have the conversations that can make life easier when plans need to be put into place.
Heart to Heart Workbook (26183W)
Heart to Heart Important Documents Checklist (26183WA)
October 20:  Heart to Heart Conversations Part 2
Last week, we learned how to have those important heart to heart conversations. This week, the focus is on the preparation for these healthy conversations and on implementing your plans. We will be using some tools that will be provided to participants.
All the Info You Need – DFS
Survivor Checklist
October 27:  What is Enough? An Approach to Retirement Income.
Whether you are just starting your professional journey or you just gave your last final notice, it is important to have an effective overall approach to managing your money.  In this workshop we will learn how to build a strong and adaptable financial strategy to be more confident in saving for retirement, whether that's in 20 years or 20 days.
Holiday Zoombration
Saturday, December 5, 2020     10:00 a.m.   ZOOM Meeting
Challenges for College Women — Single Parent Scholar Program at Wilson College
Vanessa Whitfield, Admissions Counselor
More information about the following programs will be in the newsletter and sent to members via email.  Stay tuned.
Tuesday, January 26, 2021     7:00 pm    ZOOM Meeting

Financial Workshop #2: For Members, by Members
Tuesday, February 23, 2021     11:00 am  
Close to Home: Business Recovery in Carlisle
Carlisle Area High School (tentative)
Tuesday, March 23, 2021        7:00 pm
Women Supporting Women Panel Discussion
Tuesday, April 27, 2021      6:00 pm
Scholarship Banquet
Dickinson College, HUB, Social Hall East (tentative)
Presentation of Higher Education Scholarships
Tuesday, May 25, 2021         7:00 pm
More details to follow