---
This life-changing

workshop is FREE and now ONLINE! AAUW Work Smart Online can be accessed through any computer or mobile device and takes about 90 minutes complete, giving participants the tools and skills they need to successfully negotiate their salaries.
AAUW Work Smart is a successful salary negotiation workshop for working women in job transition and seeking promotions. One ingredient of the gender pay gap is women often don't negotiate their salaries. We advocate on behalf of others with gusto, yet find it difficult to do the same for ourselves. This workshop teaches the skills to identify an individual's unique skills, knowledge and experience; how to communicate these in an interview; how to value these in the salary discussion; and how to negotiate for a salary based on these unique attributes.
A strategic objective of the AAUW Carlisle Board was to hold an AAUW Work Smart salary negotiation workshop.  Partnering with Hope Station, Cumberland Valley Rising, and The Coalition of 100 Bl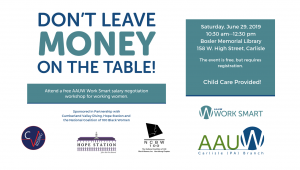 ack Women–Harrisburg the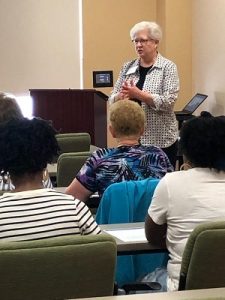 workshop was offered on Saturday, June 29, 2019 at the Bosler Library.
Twelve attendees learned to claim and give voice to their unique value, how to ide
ntify a target salary and salary range, and how to create a persuasive negotiation strategy.  The sharing of stories and working with others is an added bonus of an in-person workshop. The techniques and fabulous role-playing is found at salary.aauw.org— a FREE online course.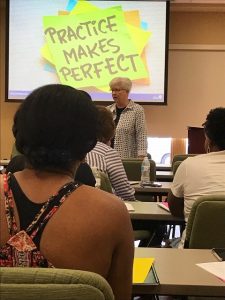 This event was made possible by donations from AAUW Carlisle, Carlisle Barracks Spouses Club, Volvo America and Giant Foods.
Eliminating the Gender Pay Gap is an AAUW priority and research shows that many women fail to advocate for themselves when negotiating their salary. The goal of AAUW Work Smart is to teach women the skills necessary to negotiate in today's workforce.
---
Seven women attended the AAUW Work Smart salary negotiation workshop in March 2017 to learn how to negotiate for a new job, raise or promotion.  Everyone felt it was

extremely likely they would implement the skills learned in the workshop.  Participants learned how:   to value their experiences, skills, and education to create their own brand; locate objective salary data to determine a fair target salary; create a persuasive strategy; deflect salary requests; respond to offers.
Want to be put on the waiting list for the next AAUW Work Smart Salary Negotiation workshop?  Send an email with your contact information.  While we aren't sure when we will offer another workshop, we are happy to notify you of the next workshop.