In keeping with AAUW Carlisle's members' commitment to explore AAUW mission issues. . . .

Mark your calendar for September 21, 2022 to meet us at the capitol in Harrisburg for the presentation of the white paper to members of the General Assembly.  Details to follow.
BEYOND SUFFRAGE: Reclaiming the Future
Women's Economic Security Forum
Was held on Thursday, May 5 from 4:00 — 8:00 pm at the Cumberland County Historical Society.  The event was free and an evening meal was served.  75 persons participated. 
After spending months planning and making the hard decision to postpone due to COVID, the wonderful band of community partners has joined forces again, along with new partners to host what we hope will be an impactful forum on women's economic security issues. The pandemic has only magnified the challenges women face competing in today's economy.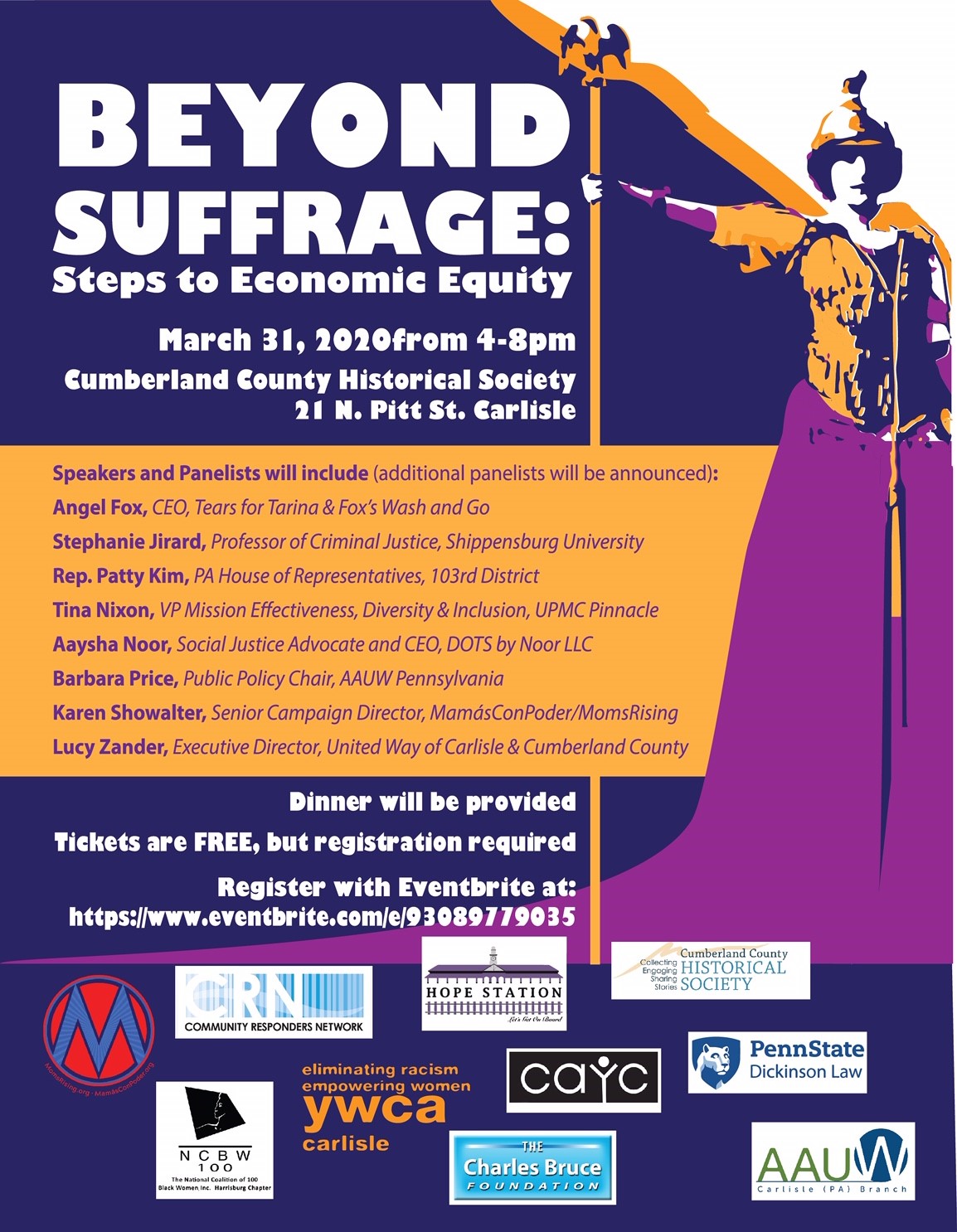 This community forum will bring together leaders and members of the community to listen, learn and discuss important issues that impact the economic security of women. The evening will feature two sessions – one on Social Bias and Barriers and one on Workplace Challenges Magnified (to include the effects of the pandemic on women). Each session will include a keynote speaker and a panel discussion with local experts. We will then break into working groups to discuss issues, individual experiences and ideas for actions that will have a positive impact.
Aaysha Noor, Head of Diversity and Inclusion at Giant will be our keynote for the Social Barriers and Bias session and has lined up the following panelists:
Stephanie Jirard, Professor of Criminology, Shippensburg University
Rep. Patty Kim, PA House of Representatives, 103rd District
Tina Nixon, VP Mission Effectiveness, Diversity & Inclusion, UPMC Pinnacle
Latino and Immigrant perspective – Mirna Gonzalez, CASA
The Workplace Challenges Magnified session will be led by our Keynote – Donna Bickford, Dickinson College Dir. of Women's and Gender Resource Center. Our terrific panel will be:
Paid Leave – Karen Showalter (MomsRising)
Equal Pay – Barbara Price (AAUW PA)
Affordable Childcare – Kim Early (PennAEYC) and Steve Doster (Mission Readiness)
Small Business Perspective – Nicole Miller, Mgr. Cornerstone Coffee House
Government Perspective – Randy Teplitz, Chair of PA Commission for Women
Our objective is to compile community feedback from the evening in a white paper which will be presented to our Pennsylvania legislators as they consider several bills that will impact women's economic security, including equal pay, paid leave, and the minimum wage.
We will also be creating an Equity Quilt. Participants were given a fabric square and asked to depict examples of how they have experienced inequities in their lives which have hindered them from economic success. Volunteers will sew them together into a quilt which will also be presented to legislators at the Capitol.
Research reports supporting our work are:
Resilient But Not Recovered: After Two Years of the COVID-19 Crisis, Women Are Still Struggling, March 2022, National Women's Law Center
Build(ing) the Future: Bold Policies for a Gender-Equitable Recovery, 2020, Institute for Women's Policy Research.
Female Labor Force Participation Is Key To PA's Economic Recovery, October 2021, Council for a Strong America
ReadyNation Members Need Governors to Stay Engaged on Child Care Crisis, July 2022, Council for a Strong America