Gender Pay Gap article in The Sentinel
After attending the Black Women Equal Pay Day eve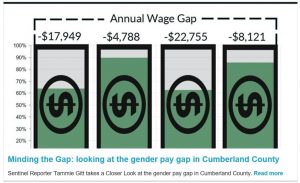 nt, Tammie Gitt decided to write an in depth piece about the gender pay gap in Cumberland County.  Front page story in The Sentinel on October 13 is an excellent article.
Companion article looking at the impact on student debt was published on October 15, 2018.
---
And, here is how.  AAUW Carlisle members. . . .
Award Higher Education Scholarships  to qualifying Cumberland County women college students every year.
Create societal change through non-partisan advocacy on issues impacting women and girls.  Issues include:  Education, Gender Pay Equity, Title IX, STEM, Economic Security, Get Out The Vote.
Partner with Dickinson College AAUW collegiate chapter.
Collaborate with like-minded organizations in Carlisle and Cumberland County.
Learn and grow through content rich monthly meetings,  (August–May)
Socialize while attending an interest group activity:  Book Group, Bridge Flight, Cultural Outings, Gourmet Dinner Group.
Interested in learning more about membership?
Check out This and That for tidbits of information about AAUW.