Trailblazers

On April 15, 2019 AAUW Carlisle launched a new tradition — Trailblazers Girls' Recognition Event.  Three juniors and four seniors, selected by their teachers to submit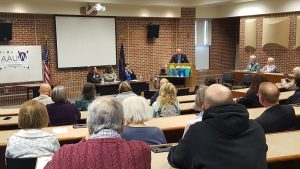 responses to a questionnaire about their CTE interests, were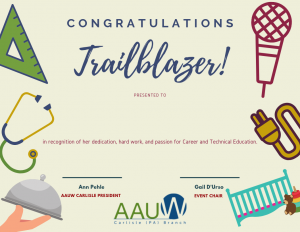 honored in the Fowler Auditorium at Carlisle High School.  Light refreshments, provided by students in the Culinary Program, followed in the Culinary Café.
In keeping with our mission to support girls and women, AAUW Carlisle launched this
"Trailblazers Recognition Event" to celebrate high school girls who choose Career and Technical Education Programs of Study.  This idea has evolved from recognizing girls in STEM programs (who are likely to receive recognition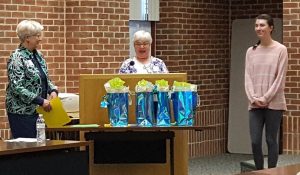 elsewhere) to the recognition of girls who are pursuing study in vocational or technical fields.  Teachers recommended girls for recognition based on the following qualities:  good citizenship at school, enthusiasm for their Program of Study, and academic competence with passing grades in all of their courses.
AAUW recognizes that many high school students face pressure to attend four-year colleges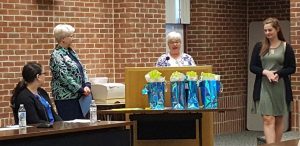 from sources at school, at home, and in the wider community and culture.  Furthermore, girls who are interested in non-traditional tracks in high school, such as automotive technology, engineering or construction trades, rarely receive positive support or recognition.  The combined impact of these influences may persuade some young women to pursue four-year degrees, often accompanied by heavy college debts when a vocational diploma would better suit their career goals.
Dr. Parrillo, Director of Career and Technical at Carlisle Area High School opened the event.  Ann Pehle welcomed the audience of honorees, parents, CTE students, and AAUW Carlisle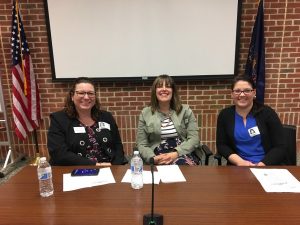 members.  Gail D'Urso introd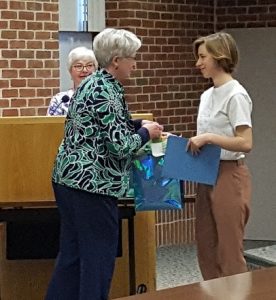 uced the panelists — Michelle Lisk, owner Synergy Home Care; Ashleigh Corby, owner Carlisle Pubs, Inc.; Melanie Kuzma, Assistant Service Manager at Faulkner Subaru — who shared their own experiences with a career in a CTE field.  Then, each honoree was introduced and received a certificate.  Seniors received a stadium blanket too.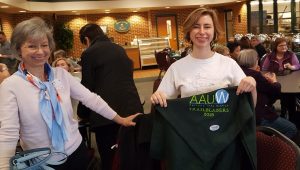 Everyone thought the event a success.  We have started a tradition that will be wonderful to keep.
---
And, here is how.  AAUW Carlisle members. . . .
Award Higher Education Scholarships  to qualifying Cumberland County women college students every year.
Create societal change through non-partisan advocacy on issues impacting women and girls.  Issues include:  Education, Gender Pay Equity, Title IX, STEM, Economic Security, Get Out The Vote.
Partner with Dickinson College AAUW collegiate chapter.
Collaborate with like-minded organizations in Carlisle and Cumberland County.
Learn and grow through content rich monthly meetings,  (August–May)
Socialize while attending an interest group activity:  Book Group, Bridge Flight, Cultural Outings, Gourmet Dinner Group.
Interested in learning more about membership?
Check out This and That for tidbits of information about AAUW.