A strategic objective of the AAUW Carlisle Board was to hold an AAUW Work Smart salary negotiation workshop.  Partnering with Hope Station, Cumberland Valley Rising, and The Coalition of 100 Bl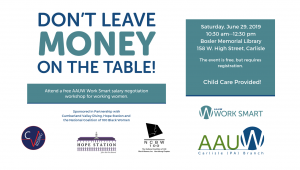 ack Women–Harrisburg the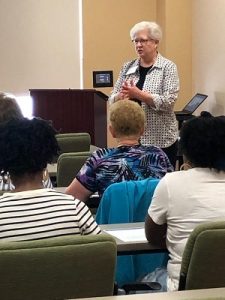 workshop was offered on Saturday, June 29th at the Bosler Library.
Twelve attendees learned to claim and give voice to their unique value, how to ide
ntify a target salary and salary range, and how to create a persuasive negotiation strategy.  The sharing of stories and working with others is an added bonus of an in-person workshop. The techniques and fabulous role-playing is found at salary.aauw.org— a FREE online course.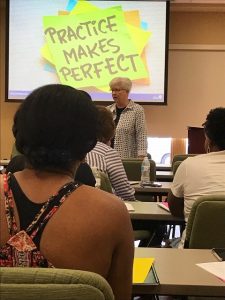 This event was made possible by donations from AAUW Carlisle, Carlisle Barracks Spouses Club, Volvo America and Giant Foods.
Eliminating the Gender Pay Gap is an AAUW priority and research shows that many women fail to advocate for themselves when negotiating their salary. The goal of AAUW Work Smart is to teach women the skills necessary to negotiate in today's workforce.
---
And, here is how.  AAUW Carlisle members. . . .
Award Higher Education Scholarships  to qualifying Cumberland County women college students every year.
Create societal change through non-partisan advocacy on issues impacting women and girls.  Issues include:  Education, Gender Pay Equity, Title IX, STEM, Economic Security, Get Out The Vote.
Partner with Dickinson College AAUW collegiate chapter.
Collaborate with like-minded organizations in Carlisle and Cumberland County.
Learn and grow through content rich monthly meetings,  (August–May)
Socialize while attending an interest group activity:  Book Group, Bridge Flight, Cultural Outings, Gourmet Dinner Group.
Interested in learning more about membership?
Check out This and That for tidbits of information about AAUW.