Livestream CASD School Board Candidate Forum here!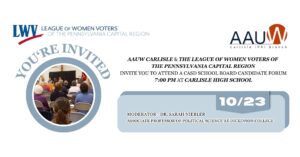 Carlisle AAUW and the League of Women Voters of the Pennsylvania Capitol Region will hold a Candidate Forum to be held at Carlisle High School, McGowan Auditorium, at 7:00 p.m. on October 23, 2023. The Forum program will be moderated by Dr. Sarah Niebler, Associate Professor of Political Science at Dickinson College.  Following the candidate forum program, attendees will have an opportunity to meet with individual candidates.
The link to register is http://bit.ly/452XKwm. The Forum will be live-streamed here and also available on YouTube after the event.
CASD School Board Candidate Positions
In advance of Carlisle Area School District Board of Directors 2023 primary elections, we offer these candidate questions and responses. AAUW Carlisle continues its non-partisan voter education efforts and our traditional role of providing information to help those in our community learn about the candidates in local elections. View the questionnaire and candidate responses here.  2023 CASD Candidate Question_Responses