The Simple Truth:  In Recognition of African American
Women Equal Pay Day
Would you like to work seven extra months for free just to earn the same paycheck as your male co-workers?  Unfortunately, if you're a black woman in the United State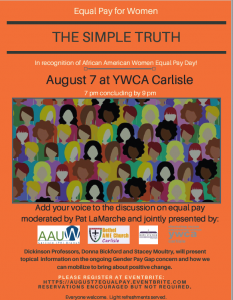 s, that's a likely reality.  On average, black women were paid 63 percent of what non-Hispanic white men were paid.  That means it takes the typical black woman 19 months to be paid what the average white man takes home in 12 months.
To bring attention to this pay gap, AAUW Carlisle partnered with Hope Station, Bethel AME Church, and the YWCA Carlisle and held a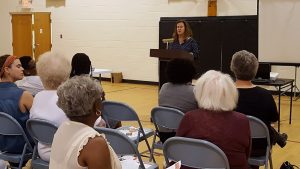 community meeting on August 7, 2018, Black Women Equal Pay Day.  Registered attendees were encourage to read the following prior to the event.
Pat LaMarche moderated the evening.  Donna Bickford, AAUW Carlis
le member, Director, Women's and Gender Resource Center and Professor at Dickinson College provided an overview of the data and explored some of the reasons.  Stacey Moultry, Visiting Instructor in American Studies at Dickinson College put the gender pay gap into historical perspective.
In small groups, attendees discussed questions designed to reflect on their own experiences and generate ideas for positive change.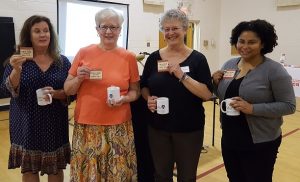 Ann Pehle, AAUW Carlisle President offered an overview of Pennsylvania legislation and actions individuals can take.
The evening was a success.  Interested attendees signed up for Action Alerts in order to stay informed and engaged with this issue from a legislative perspective.  And, organizers are already planning how to bring Work Smart, AAUW's salary negotiation workshop to Carlisle.
---
And, here is how.  AAUW Carlisle members. . . .
Award Higher Education Scholarships  to qualifying Cumberland County women college students every year.
Create societal change through non-partisan advocacy on issues impacting women and girls.  Issues include:  Education, Gender Pay Equity, Title IX, STEM, Economic Security, Get Out The Vote.
Partner with Dickinson College AAUW collegiate chapter.
Collaborate with like-minded organizations in Carlisle and Cumberland County.
Learn and grow through content rich monthly meetings,  (August–May)
Socialize while attending an interest group activity:  Book Group, Bridge Flight, Cultural Outings, Gourmet Dinner Group.
Interested in learning more about membership?
Check out This and That for tidbits of information about AAUW.