Scholarship Time!                                                            
Don't forget to make your donation toward this year's AAUW Carlisle Higher Education Scholarship. What an amazing opportunity to support young women in our own community!
This Month's Branch Meeting celebrates our local schools
This meeting in the Courtyard Café at Carlisle High School will feature                                                Tracy Stritch, Co-Op Coordinator at Carlisle High School. Chefs Ehly and Seros and their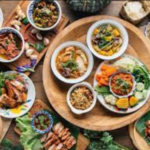 Culinary students have planned a beautiful meal for our enjoyment.
Upcoming Events
Our Fifth Annual Trailblazer Girls Recognition Event is scheduled for Tuesday,
March 21st. The Scholarship Banquet will be held on April 25th.