AAUW Carlisle is proud to sponsor. . .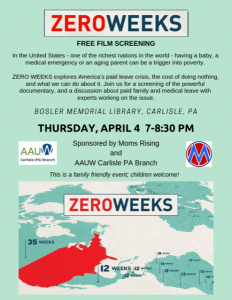 A FREE screening of Zero Weeks, a documentary showing the impact of not having paid family leave.  Partnering with MomsRising and CVR to share start a dialogue with the Carlisle community.
Thursday, April 4
7:00 — 8:30 pm
Bosler Memorial Library, Carlisle, PA

Invite friends and family.  Children welcome.  Download flyer here.
Click here for more information on AAUW's position on Paid Leve.
---
And, here is how.  AAUW Carlisle members. . . .
Award Higher Education Scholarships  to qualifying Cumberland County women college students every year.
Create societal change through non-partisan advocacy on issues impacting women and girls.  Issues include:  Education, Gender Pay Equity, Title IX, STEM, Economic Security, Get Out The Vote.
Partner with Dickinson College AAUW collegiate chapter.
Collaborate with like-minded organizations in Carlisle and Cumberland County.
Learn and grow through content rich monthly meetings,  (August–May)
Socialize while attending an interest group activity:  Book Group, Bridge Flight, Cultural Outings, Gourmet Dinner Group.
Interested in learning more about membership?
Check out This and That for tidbits of information about AAUW.