Makayla Glass, a graduate of Big Spring High School, is finishing her sophomore year as an accounting student in the John L. Grove College of Business at Shippensburg University. Her goal is to continue in the fifth year for her MBA and passing the CPA exam. Makayla is very active in student life, announcing she was recently elected Vice President of the Shippensburg St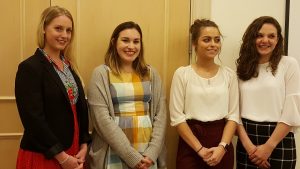 udent Government Association. She is also working part-time and pursuing accounting internships. Makayla shared her goals and there is no doubt she will accomplish anything she sets her mind to.
Darien Kase, is currently a sophomore at Penn State majoring in pediatric nursing. A graduate of Boiling Springs High School, the experience of working with underprivileged children informed her career choice. Her face brightened as she shared her decision journey and goals of providing nursing care to underprivileged children and earning her doctorate so she can teach nursing. Darien is looking forward to her clinical rotation at Penn State Hershey in the fall. She is very active on campus, being the Chair for the Primary and Family Relations THON. Darien's enthusiasm was contagious.
Rebekah Vensel, graduated from Boiling Springs High School and headed to Loyola University in New Orleans to major in Music Industry with a focus in voice. A Dean's List junior, Rebekah plans to graduate in three years. Carrying more than a full load of credits, she is a member of the Student Government Association and works as a performance technician. It is her intership with the Lousiana Philharmonic Orchestra that solidified her career choice of working in the music non-profit sector.
The Yeun Yen Lee Wong Memorial Scholarship, was introduced. Dr. Lillian Wong, and AAUW Carlisle member, offered the scholarship in honor and in memory of her mother who valued education though she herself lacked any formal education. The scholarship hopes to reflect the impact and importance of education for women and girls. This scholarship is given to a candidate who graduated with a STEM degree and is currently pursuing a second degree in a health field. Ciera Rhodes received this scholarship.
Ciera graduated from Carlisle High School and received her biology degree from Wilson College. Afte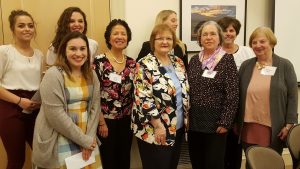 r working in her field, she wanted something more, and was accepted into the Wilson College Nursing program. Focused on her goals of earning her Certified Nursing Assistant certification and graduating with a nursing degree in May 2019, Ciera is balancing work at two jobs as well as family obligations. Ciera was a 2017 Higher Education Scholarship winner.
2017:
Alyssa Jones, Physician's Assistant Program, Penn State Hershey College of Medicine.
Ciera Rhodes, Nursing, Wilson College.
Morgan Seifert, Elementary and Early Childhood Education, Penn State University
Alexandria Shope , Communications Design, Kutztown University.
Joann B. Ketterer Memorial Scholarship, Lynn Finkenbinder, Food Service, Penn State University.
AAUW Carlisle presented a Memorial Scholarship honoring Joann B. Ketterer, a branch member and past membership co-chair.  A resident of Newville, she was a Penn State University graduate, and taught Home Economics at Shippensburg High School and the Adams County Extension Office.  Active in the Pennsylvania and Cumberland County Farm Women, the Shippensburg Fair Exhibitors and the Future Home Economics of America, Joann was an enthusiastic supporter of the AAUW Branch scholarship program.
2016:
Alyssa Jones, Physician Assistant, Penn State College of Medicine
Miranda Clash, Early Childhood Education, Elizabethtown College
Kelsey Dutka, Pharmacy, Duquesne University
Crystal Van, Marketing, Temple University
2015:
Biology and Health Care Studies, Susquehanna University
Police Academy, Harrisburg Area Community College
American Studies, Penn State University- Harrisburg
2014:
Communications, Penn State University-Harrisburg
Speech-Language Pathology, Misericordia University
American Studies, Penn State University-Harrisburg
2013:
Applied Clinical Psychology, Penn State University-Harrisburg
Occupational Therapy, Mt. Aloysius College
2012:
Communications, Millersville University
Nursing, Penn State University