2017 recipients:
Alyssa Jones is a three-time recipient of the Higher Education Scholarship.  A graduate of Big Spring High School and Susquehanna University, she is in her first year of a Physician's Assistant program at Penn State Hershey College of Medicine, scheduled to start clinical rotations in May.
Ciera Rhodes, a graduate of Carlisle High School , holds a bachelor's degree in Biology from Wilson College. Ciera is currently working at Menno Haven as she continues her studies.  Her interest is in holistic medicine and patient care.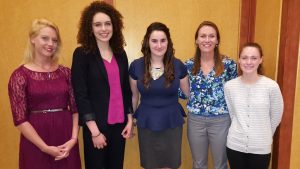 Morgan Seifert graduated from Cumberland Valley High School and is currently a sophomore at Penn State University, pursuing an Elementary and Early Childhood Education degree.  She works a variety of jobs to support her goals, including as a Nursery Aide, and volunteers at an animal shelter.
Alexandria Shope , a graduate of Carlisle High School, is pursuing a Communications Design degree at Kutztown.  She is working as a graphic design assistant, and brings her passion for art to various social awareness and fund raising events.  Her professors praise her pursuit of the highest standards of excellence.
AAUW Carlisle presented a Memorial Scholarship honoring Joann B. Ketterer, a branch member and past membership co-chair.  A resident of Newville, she was a Penn State University graduate, and taught Home Economics at Shippensburg High School and the Adams County Extension Office.  Active in the Pennsylvania and Cumberland County Farm Women, the Shippensburg Fair Exhibitors and the Future Home Economics of America, Joann was an enthusiastic supporter of the AAUW Branch scholarship program.
Lynn Finkenbinder is the recipient of the Joann B. Ketterer Memorial Scholarship.  Lynn is a graduate of Big Spring High School.  Like Joann before her, Lynn is enrolled at Penn State University majoring in food service.  She is a member of Future Farmers of America and 4-H.  Lynn credits 4-H for developing her self-confidence, leadership and speaking skills, and is interested in working for the Department of Agriculture after her graduation.
2016:
Alyssa Jones, Physician Assistant, Penn State College of Medicine
Miranda Clash, Early Childhood Education, Elizabethtown College
Kelsey Dutka, Pharmacy, Duquesne University
Crystal Van, Marketing, Temple University
2015:
Biology and Health Care Studies, Susquehanna University
Police Academy, Harrisburg Area Community College
American Studies, Penn State University- Harrisburg
2014:
Communications, Penn State University-Harrisburg
Speech-Language Pathology, Misericordia University
American Studies, Penn State University-Harrisburg
2013:
Applied Clinical Psychology, Penn State University-Harrisburg
Occupational Therapy, Mt. Aloysius College
2012:
Communications, Millersville University
Nursing, Penn State University