Recipients of the AAUW Carlisle Higher Education Scholarship
2021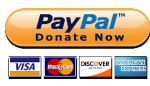 In an all-high tech modern world of ZOOM, AAUW Carlisle celebrated the accomplishments of four highly qualified, enthusiastic, and well-deserving women for the 2021 Higher Education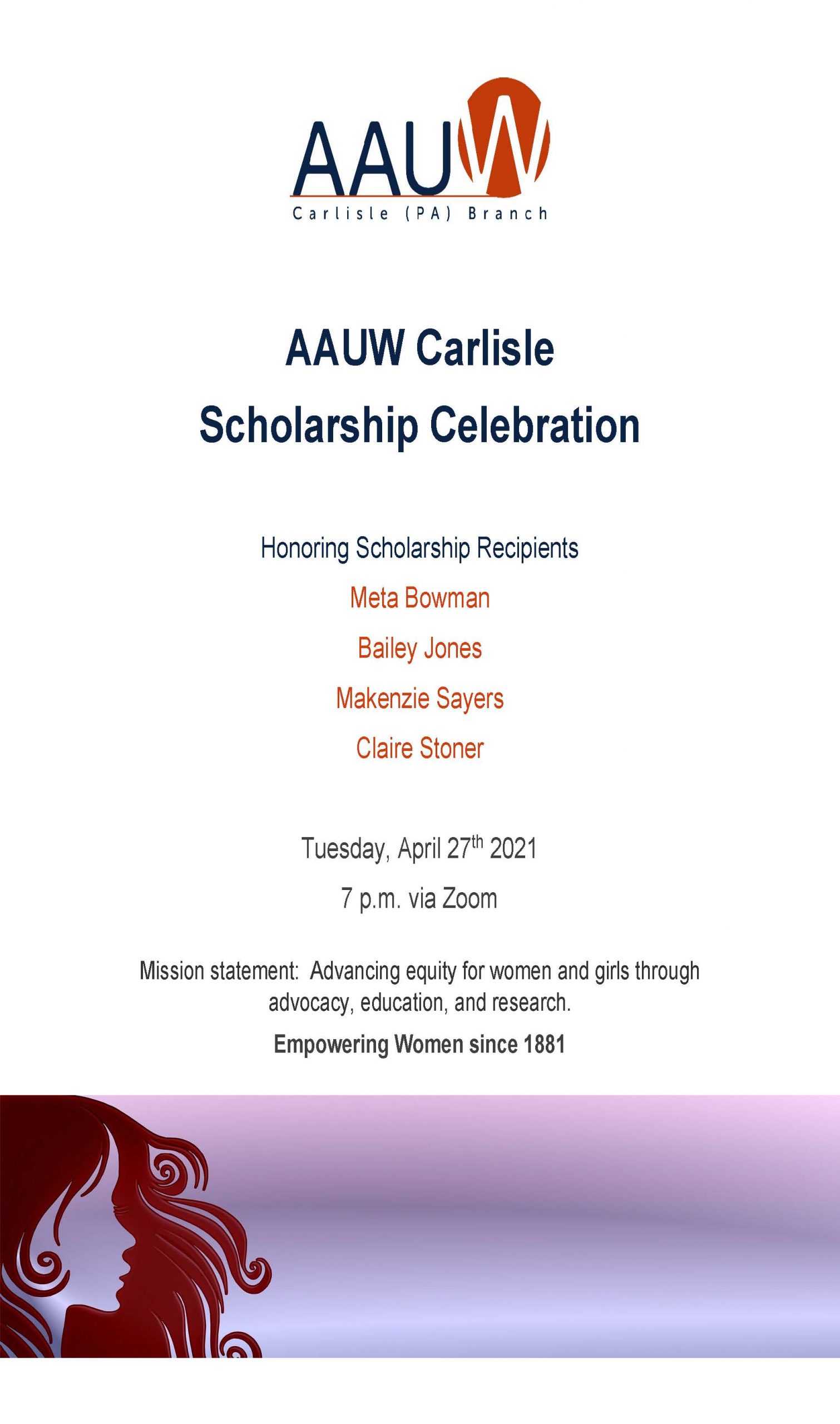 Scholarship awards on April 25, 2021.  We celebrated with members, awardees, their families, and friends in an awesome evening of fun as well as recognition of the students' academics, work experience, persistence, and perseverance.  The $1500 scholarship will assist them in completing their academic goals. Event program.
Each recipient was given the opportunity to speak about their future endeavors, as well as thanking AAUW Carlisle Branch for the honor of receiving the scholarship. It goes without saying how generous the members are in supporting equity of education in women and girls.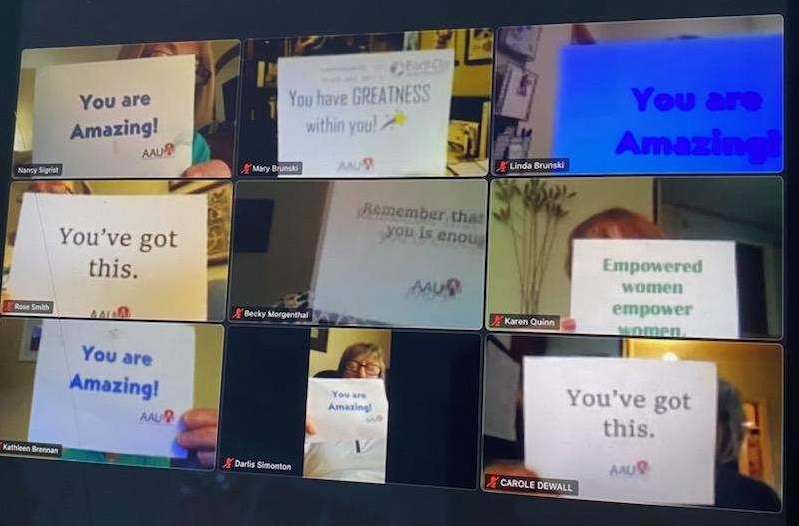 Even though we couldn't express our joy via applause or hugs, handshakes, or words of encouragement, we did find a way to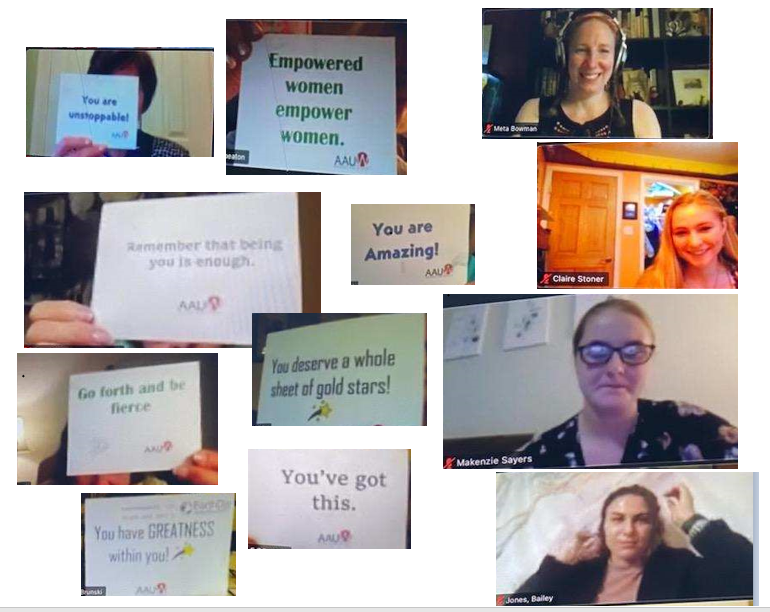 celebrate!  AAUW Carlisle members received postcards with messages of support to hold up to the camera!  All while our four recipients viewed with smiles!  Additionally, we were able to have a Zoom group photo!

2021 AAUW Carlisle Scholarship Recipients
Meta Bowman
Meta Bowman is a repeat winner of our AAUW Scholarship. Now in her second year of the Master of Social Work program at Shippensburg University, Meta recently concluded her first field placement helping women with families find permanent housing and providing other support services. She hopes to use her Master's degree to work with marginalized and oppressed people on both the macro and micro levels through policy initiatives to facilitate social change and by providing direct services to clients. Meta currently works two part-time jobs while also homeschooling her son during the pandemic. She is a 2003 Magna Cum Laude graduate of Dickinson College in Art and Art History, and French and Francophone Studies.
Bailey Jones
Have you heard of a 3-peat? That would describe Bailey Jones, who is receiving an AAUW Scholarship for the third year. Bailey is a mechanical engineering student at the University of Pittsburgh. In addition to her academic work, Bailey has completed three internships at Volvo Construction Equipment and Harley Davidson. She has chaired a Girl Scout Engineering Day to spark interest in STEM fields, and she has worked as a lab-teaching assistant for a mechanical design class. Bailey is a hardworking self-starter whose ambition, efficiency, enthusiasm, and resiliency will surely lead her to a bright future in this field.
Makenzie Sayers
Makenzie Sayers is a senior Family & Consumer Science Education major at the Indiana University of Pennsylvania. Her overall GPA of 3.79 is a testament to her strong work ethic and motivation to succeed. She has maintained this high GPA while holding down part-time jobs to help fund her education. She also organized and taught paint nights for students and community groups as another source of income. Makenzie demonstrated her leadership abilities as President and Social Media Coordination of the FCS Education Student Association. She will proudly tell you that she said: "Yes to FCS!"
Her undergraduate research project, "Drink and Wear Kombucha? A Sustainable Approach to Fashion" took Makenzie into the realm of textile science, particularly SCOBY, the symbiotic culture of bacteria and yeast. She presented her research and her SCOBY textile handbag at IUP's Undergraduate Scholars' Forum and to the International Textile and Apparel Association. Makenzie is working to land a position as an FCS teacher, hopefully in central Pennsylvania.
Claire Stoner
Claire Stoner has always been a child shooting for the stars believing that anything is possible if she works hard enough for it. Currently, she has finished her freshman year as an accounting major at Duquesne University. One of her professors stated that Claire was the top student in all of her accounting courses first semester. At Duquesne, she is the Social Engagement chair for Freshman Council, a mentor for 3rd and 4th-grade girls at Westwood School District, and a member of the Association of Information Systems, the student accounting association, and Christians in Action. She is also working on publishing a research paper with her mentor Dr. Karoly Bozan. During the challenging time of Covid, she helped her small family-owned business. She truly exemplifies that if she works hard enough the seemingly impossible becomes possible.
2020
In lie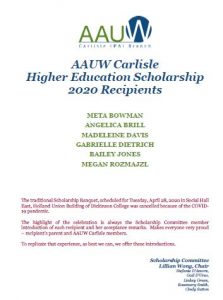 u of holding our Scholarship Banquet in April (victim of COVID-19 lockdown), we published this summary — 2020 Higher Education Scholarship Recipient Introductions.  Read to learn more about these amazing women we are so pleased to honor.
Meta Bowman,  Master's Degree in Social Work, Shippensburg University.
Angelica Brill, Community Environment and Development, Penn State University, University Park campus.
Madeleine Davis, majors in Environmental Sustainability with minors in Psychology and Spanish, Shippensburg University.
Gabrielle Dietrich, Social Work, Shippensburg University.
Bailey Jones Mechanical Engineering, University of Pittsburgh.
Megan Rozmajzl, Physician Assistant, Salus University.
2019
Read more about the recipients and celebration here.
Johanna Bear, Women's, Gender and Sexuality Studies and Theatre, Franklin and Marshall College.
Bailey Jones, Mechanical Engineering, University of Pittsburgh.
Makayla Glass, accounting, John L. Grove College of Business at Shippensburg University.
Darien Kase, pediatric nursing, Penn State University.
Lt. Col. Edward J. "Woodie" Collins Memorial Scholarship, Carlie Antes
art therapy combined with psychology, Marywood University
2018
Makayla Glass, accounting, John L. Grove College of Business at Shippensburg University.
Darien Kase, pediatric nursing, Penn State University.
Rebekah Vensel,  major in Music Industry, Loyola University in New Orleans.
Yeun Yen Lee Wong Memorial Scholarship, Ciera Rhodes, Nursing, Wilson College.
The Yeun Yen Lee Wong Memorial Scholarship, was introduced. Dr. Lillian Wong, and AAUW Carlisle member, offered the scholarship in honor and in memory of her mother who valued education though she herself lacked any formal education. The scholarship hopes to reflect the impact and importance of education for women and girls. This scholarship is given to a candidate who graduated with a STEM degree and is currently pursuing a second degree in a health field.
2017
Alyssa Jones, Physician's Assistant Program, Penn State Hershey College of Medicine.
Ciera Rhodes, Nursing, Wilson College.
Morgan Seifert, Elementary and Early Childhood Education, Penn State University
Alexandria Shope , Communications Design, Kutztown University.
Joann B. Ketterer Memorial Scholarship, Lynn Finkenbinder, Food Service, Penn State University.
AAUW Carlisle presented a Memorial Scholarship honoring Joann B. Ketterer, a branch member and past membership co-chair.  A resident of Newville, she was a Penn State University graduate, and taught Home Economics at Shippensburg High School and the Adams County Extension Office.  Active in the Pennsylvania and Cumberland County Farm Women, the Shippensburg Fair Exhibitors and the Future Home Economics of America, Joann was an enthusiastic supporter of the AAUW Branch scholarship program.
2016
Alyssa Jones, Physician Assistant, Penn State College of Medicine
Miranda Clash, Early Childhood Education, Elizabethtown College
Kelsey Dutka, Pharmacy, Duquesne University
Crystal Van, Marketing, Temple University
2015
Biology and Health Care Studies, Susquehanna University
Police Academy, Harrisburg Area Community College
American Studies, Penn State University- Harrisburg
2014
Communications, Penn State University-Harrisburg
Speech-Language Pathology, Misericordia University
American Studies, Penn State University-Harrisburg
2013
Applied Clinical Psychology, Penn State University-Harrisburg
Occupational Therapy, Mt. Aloysius College
2012
Communications, Millersville University
Nursing, Penn State University