The Gender Wage Gap in 2017

U.S. women working full time, year-round are paid just 80 percent of U.S. men's median earnings—a gap of 20 percent. In Pennsylvania, the gap is 79%. AAUW's The Simple Truth about the Gender Pay Gap succinctly addresses these issues by going beyond the widely reported 80 percent statistic. The report explains the pay gap in the United States; how it affects women of all ages, races, and education levels; and what you can do to close it.
Want to learn about the Gender Wage Gap?  Read a summary of Topic Talks held on March 20th.
Two members of the Carlisle Branch participated in the Rally and Lobby Day events planned by AAUW-PA on April 4, 2017 at the capitol.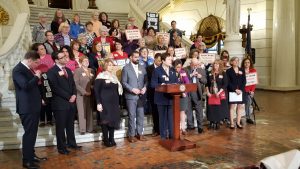 2017 "celebration' dates are:
March 7                 Asian American women
April 4                    All women
May 1                     White women
May 23                   Moms
July 31                    African American women
September 25      Native American women
November 2         Latina women