2019 Equal Pay Day Events

Equal Pay Day for all women was Tuesday, April 2.  Because neither the Pennsylvania House or Sena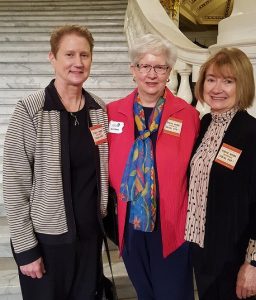 te was in session that day, AAUW Pennsylvania held a Rally at the State Capitol in Harrisburg on Monday, April 8th. Five members of AAUW Carlisle (unfortunately only three pictured) attended.  Go here for complete coverage and photos.
The day began with a briefing from Barbara Pric

e, AAUW Pennsylvania Public Policy Co-Chair.  Do you recognize the person to Barbara's left?  That is Mrs. Wolf, Pennsylvania's First Lady.  She attended the briefing and shared her reasons for supporting equal pay.
So not to be silent on Equal Pay Day, April 2nd, branches were encouraged to visit Representative and Senator district offices.  So pleased that the Representatives of all members were visited — Gleim, Rothman, Eckers, Delozier — except Keefer.  AND all State Senators — Ward, Regan — were visited.  AAUW Carlisle is amazing!!
2019 Equal Pay Dates to Know
Asian American Women's Equal Pay Day — Tuesday, March 5  (Asian Women v. White, non-Hispanic Men – $0.85)
All women's Equal Pay Day — Tuesday, April 2  (Women overall v. Men overall – $0.80)
White women's equal pay day — Friday, April 19:  (White, non-Hispanic Women v. White, non-Hispanic Men – $0.77)
Moms Equal Pay Day, usually the end of May or early June will be determined at a later date.
Black Women's Equal Pay Day — Thursday, August 22  (Black Women v. White, non-Hispanic Men – $0.61)
Native Women's Equal Pay Day — Monday, September 23  (Native Women v. White, non-Hispanic Men – $0.58)
Latinas' Equal Pay Day — Wednesday, November 20  (Latinas v. White, non-Hispanic Men – $0.53)