Fashion Archives
In June 2018, members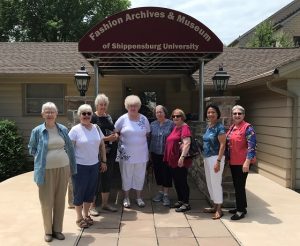 paid a second visit to the Fashion Archives at Shippensburg University.  After a great lunch at CJs, the group toured the exhibit  "The Fashions of Fiction from Pamela to Gatsby".
This innovative exhibit concept is based upon descriptions of characters in the texts of seven novels. In each story, elements of dress exercise considerable inf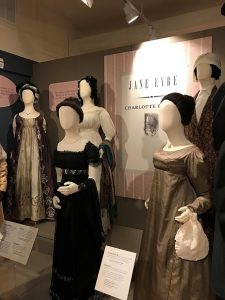 luence upon plot development and reveal the temperaments of individual characters in significant ways.  The exhibit will use dress to enhance the understanding regarding the descriptive references, the time periods, and the ways in which clothing enhances the authors' vision of the characters.  Seeing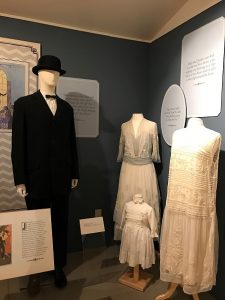 the "characters" dressed for their lives will make them come alive and contribute to a greater depth of understanding of the novels.  Some of the novels included were:  Charlotte Brontë, Jane Eyre (fashions of the 1790s through 1810s);  Gustave Flaubert, Madame Bovary (fashions of the 1840s);  Edith Wharton, Age of Innocence (fashions of the 1870s); and F. Scott Fitzgerald, The Great Gatsby (fashions of the 1920s).
2017 Activities
We had a fabulous day in Washington D.C. on Wednesday, April 12, 2017 visiting AAUW's new National Headquarters, the National Museum of Women in the Arts and dinner at the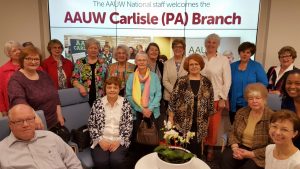 Old Ebbitt Grill.   The bus driver even scoped out some still-blooming cherry blossoms to show us on a quick tour around the tidal basin.
Members of the AAUW Public Policy team spent over an hour with us discussing current events as they relate to AAUW public policy issues and work at the federal, state and local level.  After a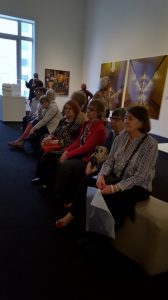 tour of the office and lunch, members of the Branch Relations (membership) team discussed national AAUW membership.  They asked what we were doing to achieve a high renewal percentage and add so many new members.  All the right stuff, we guessed.  🙂  We all gained a greater understanding of and appreciation for the AAUW national office and the work they do to support branches and public policy initiatives.
Next we were off to the National Museum of Wome
n in the Arts for a guided tour and time to meander on our own.  We ended the day with dinner at the Old Ebbitt Grill, an iconic tavern offering American meals.
Other 2017 events
Attended lectures at the Cumberland County Historical Society. 
Lenore Embick Flower – Celebrate Women's History Month
Presented by Dawn Flower-Webb (AAUW Carlisle branch member) and Lenore R. Flower
Women and Women's Groups of Cumberland County in World War I – Celebrate International Women's Day
Presented by Sandy Made
Celebrated the opening of Allenberry resort with Dinner at Allenberry.