Fun in 2019!
Visit to Pennsylania Capitol — June 2019



O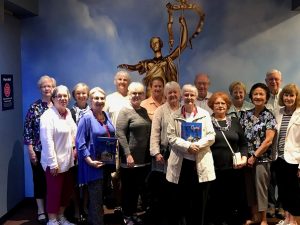 n June 19,2019 seventeen AAUW Carlisle members and guests toured the Pennsylvania Capitol in Harrisburg.  A few facts: We learned the average electric bill for the Capitol is $42,000/mo. Artist Violet Oakley asked for and received the same salary as the previous male artist as he died unexpectedly while painting canvases for the Capitol. (see below)
And we snuck (the door was open, so we stepped in) into the Governor's Reception Room and saw Governor Wolf in action.
The Millworks restaurant hosted our delicious lunch ranging from salads to pork bar-b-que sandwiches.  A wonderful day of learning and laughter.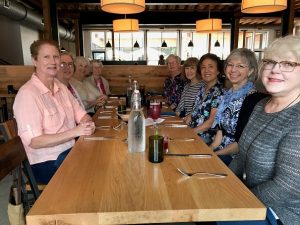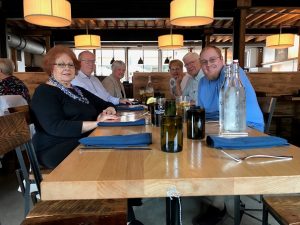 The Pennsylvania capitol also tells a story about gender pay equity.
In 1902, at the age of 28, Violet Oakley was the first woman artist to receive a large commission for adorning a capitol building in the United States. Though it was not known at t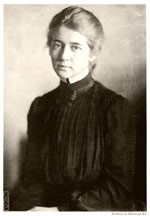 he time, Oakley would become the principal artist for the largest amount of murals in the Pennsylvania Capitol.
She was originally only offered the commission to paint murals for the Governor's Reception Room because the architect, John Irwin Bright, felt it would "add interest to the building and act as an encouragement of women of the state."
But with the passing of principal muralist Edwin Austin Abbey in 1911, she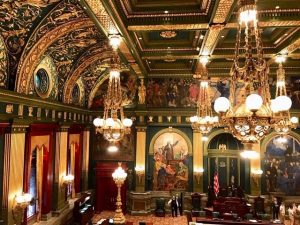 was offered the opportunity to create murals for the Capitol's unfinished Senate and Supreme Court Chambers. She said she would accept, but only if she was paid what her male colleague was to receive.
Blooming Artists  — May 2019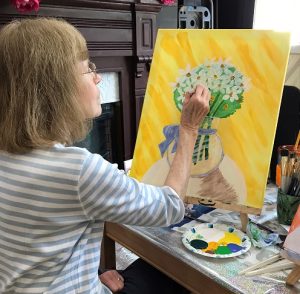 Painting afternoon at Create-a-Palooza in Carlisle. The group was guided in painting a 16″x20″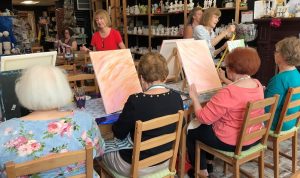 canvas of this flower vase.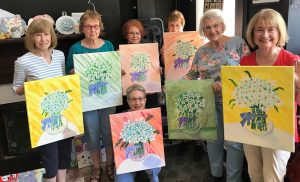 Co

oking Cla

ss at the Kitchen Shoppe, February 5th
Twenty-one of us rocked, chopped, wined, and dined at the Carlisle Kitchen Shoppe. The Chef instructed us on the preparation process and use of kitchen tools. We prepared a delicious six-course meal of appetizer, salad, soup, entree, dessert, and wine. In addition, we received a store discount to their tool store and the recipes that our groups used to make our dinner. We had a fun and tasty night and many expressed interest in another hands-on cooking night next year.
Check out the fun we had in 2018 and 2017.  You will be impressed with the places we've been!