Coming Up — Is it on Your Calendar?
For all events, please RSVP to Vicki Carl at (717)-514-3399 or victoria.carl15@gmail.com and let us know if you need a ride.
November 19, Monday: Dinner at the Market Cross Pub in Carlisle at 6 p.m. The Pub has a menu full of comfort food, classic pub dishes, and more. At 7, we will participate in a trivia competition as a team.  Check out their website here: http://marketcrosspub.com, and their lunch/dinner menu here: Market Cross Pub Menu
December 4, Tuesday: We are booked for a private tour of the Warehime-Myers Mansion and its famous Christmas decorations in Hanover at 10 a.m. Construction on the mansion began in 1911 for Mr. Myers of the Hanover Shoe Company and was built by an architect from Philadelphia. The home features marble floors, a solarium, a basement bowling alley, forty trees adorned with Christmas decorations, and art-encased windows on its enclosed porches. After the tour, we will visit the Inn 94 restaurant for lunch.  Contact at the mansion recommended Inn 94, and spoke highly of their crab cakes.  The lunch menu for Inn 94 is available here: Inn 94 Lunch Menu.
Look at the fun we had!
Two Mile House and Pizza Grille
In October 2018, we explored the Two Mile House in Carlisle — a hidden gem on Walnut Bottom Road,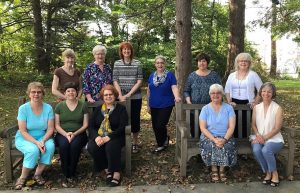 across from K-Mart.  The Two Mile House began life as a tavern in 1820, turned into a private residence, and later donated to the Cumberland County Historical Society. It now serves as a venue for weddings, the annual McClain Celtic Festival, and other large group events. It has 6 acres of beautifully landscaped gardens.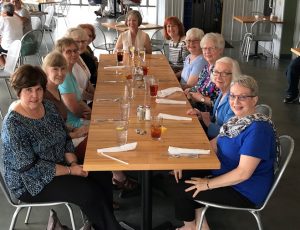 Furnished with historical pieces and artwork, you are taken back in time.  Many remarked how many times they passed it and always wondered what it was.  Visit this website for more information:  https://www.historicalsociety.com/explore/two-mile-house-tmh
Then we enjoyed lunch and great conversations at Pizza Grille.
Lunch Out
Seven members enjoyed lunch at Sophia's at Walden in August 2018.  Wonderful conversation covering many topics.  Learned more about each other, which was the real dividend.
Grand Illusion
About twenty members and spouses enjoyed hard cider, wine and good fun at Grand Illusion, on High Street in Carlisle.  We attended on a Monday night (in July 2018) because a magician toured tables with his magic.  Had to experience the full meaning of the name!  Everyone had a great time and Carol did get her ring back.
Fashion Archives
In June 2018, members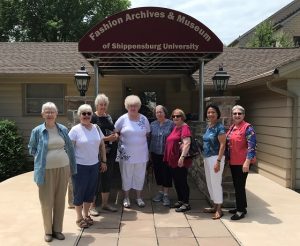 paid a second visit to the Fashion Archives at Shippensburg University.  After a great lunch at CJs, the group toured the exhibit  "The Fashions of Fiction from Pamela to Gatsby".
This innovative exhibit concept is based upon descriptions of characters in the texts of seven novels. In each story, elements of dress exercise considerable inf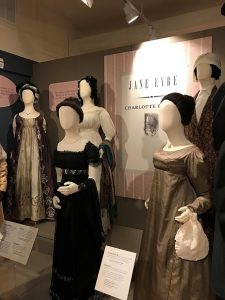 luence upon plot development and reveal the temperaments of individual characters in significant ways.  The exhibit will use dress to enhance the understanding regarding the descriptive references, the time periods, and the ways in which clothing enhances the authors' vision of the characters.  Seeing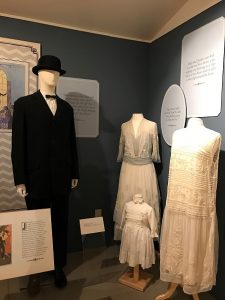 the "characters" dressed for their lives will make them come alive and contribute to a greater depth of understanding of the novels.  Some of the novels included were:  Charlotte Brontë, Jane Eyre (fashions of the 1790s through 1810s);  Gustave Flaubert, Madame Bovary (fashions of the 1840s);  Edith Wharton, Age of Innocence (fashions of the 1870s); and F. Scott Fitzgerald, The Great Gatsby (fashions of the 1920s).