Yes We Can!  AAUW Carlisle Presents Women's Rally on the Square
The Carlisle Branch of AAUW is passionate about our mis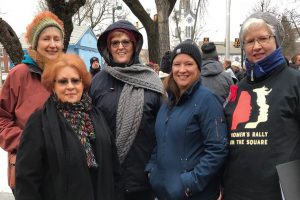 sion to advocate for issues that impact the lives of women and girls.  What better way to begin the branch's 95th year than to rally community members together to spotlight some of these enduring issues?
The idea sprung up after a group of our members marched at the 2018 Women's March in Gettysburg last January.  As we all bubbled over with the power and excitement that was the day, someone in the group asked, "Why don't WE do this in Carlisle next year?"  The idea for the Women's Rally on the Square was born!
How did we do it?
Kate Elkins, our Public Policy Co-Chair, took the lead and recruited a number of talented members to help (see list of volunteers below).  Several community partners jumped in to co-sponsor the rally including YWCA Carlisle, Cumberland Valley Rising and Carlisle Area Youth Council.  We also had behind the scenes help and support from Hope Station, League of Women Voters and The Penn State Women's Law Caucus.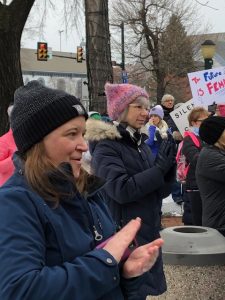 Putting together this type of event was a huge undertaking with many moving parts.  Kate and her team worked tirelessly on issues like permits, security, location logistics, refreshments, music, sound systems, media notifications and publicity, speaker engagement and coordination.  We had excellent support from local media in publicizing the rally in advance of the big day.  Here's some of the pre-rally coverage:
What happened on rally day?
On Saturday, January 19th, volunteers gathered early at Courthouse Square in Carlisle to coordinate the staging and sound systems delivery and set-up, make hot chocolate at the St. John's kitchen across the street, pick up hot coffee from the Square Bean and man the Cocoa Haus where we would sell steaming cups to very cold rally goers!
Pre-rally music provided by local musician Jamey Reisinger greeted attendees as they arrived.  By the time the main event got started, crowds had grown to around 300 – 400 people!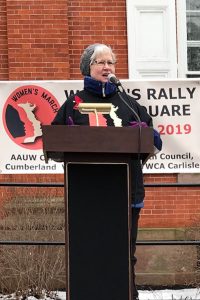 Ann Pehle, AAUW Carlisle President and AAUW PA President acted as emcee and led off the line-up of diverse women who spoke passionately about many issues impacting women and girls each day.  A complete list of speakers and their topics are as follows:
Ann Pehle – Equal Pay
Chavone Dantrell Momon-Nelson, D.O. – Challenges of Women in Medicine
Aaysha Noor (Community Responders Network, Asian American Pakistani Heritage Group) – Responding to Hate and Intolerance
Safronia Perry (Hope Station) – Treatment of Black Women in Society
Joanne Carroll (President, TransCentralPA) – Transgender and LGBTQ Experience in the Community
Maria Alejandra Hernandez (MILPA – Movement of Immigration Leaders in Pennsylvania) – Immigration and Family Separation
Samantha Martin-Hultquist, Taytum Robinson-Covert and Lilly Sellers (Carlisle Area Youth Council) – Stereotypes
Stephanie Jirard (Shippensburg Univ.) – Incarceration of Women
Arletta Morales – Dreamers
Deb Fulham-Winston (Carlisle Borough Council) – Importance of Women Running for Office and Voting
Robin Scaer – Closing Statement, Call to Action
Members of the Carlisle Area Youth Council kept spirits high as they led spectators in lively cheers throughout the event.  Robin Scaer, YWCA Carlisle, ended the rally with a call to action as s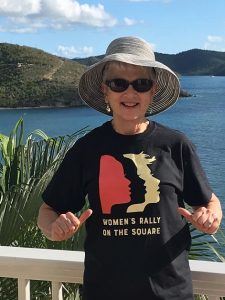 he asked everyone to speak up for equity and justice through their voices and votes.  Finally, the crowd savored the last few moments of shared unity and purpose as we rocked to the strains of Aretha Franklin's R-E-S-P-E-C-T!
While, Washington, DC, New York, and Los Angeles attracted large crowds in support of the 3rd annual Women's March, AAUW Carlisle's sister event highlighted the ongoing struggle for equality and justice in our local community.  This inspiring event is one that all who attended will not soon forget!
The rally received front page coverage in The Sentinel, complete with photos and detailed reporting of the speakers' comments.  Follow this link to view the on-line version:
https://cumberlink.com/news/local/a-push-for-social-justice-as-women-s-rally-draws/article_c085c74a-1432-5366-8aca-ea9c0b6cb39e.html#utm_source=cumberlink.com&utm_campaign=%2Femail-updates%2Fdaily-headlines%2F&utm_medium=email&utm_content=E664315D4CF207A30BFF2929355ACEBC0A88B345
Thank you to all the AAUW Carlisle Volunteers for making this such a successful event!