AAUW Carlisle Members Gather to Discuss Barriers & Bias
On November 7th, AAUW Carlisle Public Policy Committee hosted Topic Talk, our second in a series of informal meetings for those interested in specific issues of the day.  Our discussion topic for this event explored Barriers and Bias: Women in Leadership.  We were fortunate to have as our discussion leader Dickinson College Assistant Professor Katie Oliviero.  Dr. Oliviero's teaching and research specializations include transnational feminis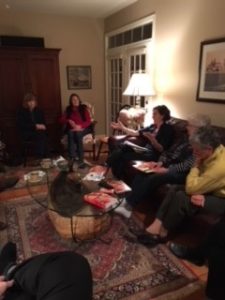 ms, immigration, QLGBT studies, critical race theory, law, social movements and cultural analysis.  She is a recipient of a 2010 -2012 postdoctoral fellowship at Emory University School of Law.  Between 2012 and 2014, Dr. Oliviero was an American Council of Learned Societies New Faculty Fellow at the University of Colorado, Women's and Gender Studies program and law school.  She joined Dickinson's staff in 2014 in their Gender and Sexuality Studies Department.  Dr. Oliviero received her B.A. degree from Dartmouth College in 2002, and M.A. for UCLA in 2007 and her Ph.D. in 2010.
Our discussion was based on information from several articles and short publications which attendees read prior to the meeting.  We also discussed our results to AAUW's Implicit Association Test which each person participated in advance.  The links to the test and articles are posted below for anyone who was unable to attend:
First hand experiences were shared as we discussed the many challenges for women aspiring to become leaders in nearly every facet of American life from non-profits to the corporate world,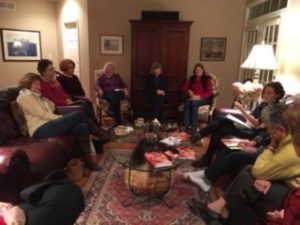 from entry level minimum wage positions to the board room.   Some points we considered included:
Women currently earn more university level degrees than men and yet remain underrepresented in top positions
Women make up more than half the population but under 30% of executive leaders
Even worse when looking at women of color with only 4% of that population holding executive level positions
Gender bias is cultural and exists in every aspect of American life including political, corporate and educational leadership opportunities
Recent headlines that exploded into the "Me Too!" social media movement speaks to the need and desire to move our culture forward to a more fair and respectful place
Our discussion ended with a call to action to continue speaking out, encouraging women and working to change the culture and environment through political advocacy.  We also agreed that our personal modeling with young children in our lives is especially important to this end.