10th U.S. Congressional
Full coverage:  https://carlisle-pa.aauw.net/10th-congressional-debate/
199th Pennsylvania House Candidate Forum
On Friday evening, October 5th, approximately 40 community members of the 199th District arrived at the YWCA Carlisle to hear from their General Ass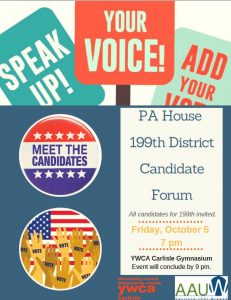 embly Candidates.  The event was organized and presented in collaboration between AAUW Carlisle and YWCA Carlisle.
While the Republican Candidate, Barb Gliem, declined to participate, the audience heard the views of Sherwood McGinnis, Democrat and Chuck

Boust, Libertarian on a wide variety of important Cumberland County and Pennsylvania issues.  Robin Scaer, Executive Director of YWCA Carlisle and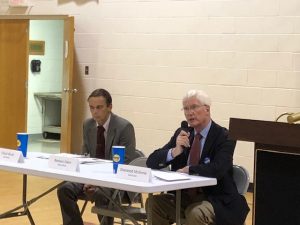 Forum Moderator tested candidates on topics that included questions about redistricting, healthcare, taxes, equal pay and minimum wage, paid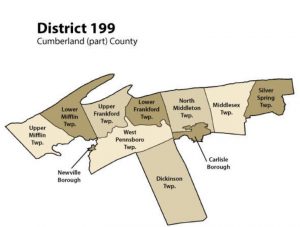 family leave, the opioid crisis, the environment, education and many others.
The evening was reported by The Sentinel.
There were many AAUW volunteers who worked to make this forum a great success.   We also greatly appreciate our members who attended and gained the knowledge they need to vote in November!
Harvest of the Arts Voter Registration — September 22, 2018

For the fifth year, we registered voters at the Harvest of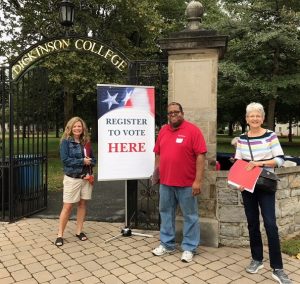 the Arts Festival.  Because the registration fee of $300 was not reduced for non-profits this year, we partnered with our friends at Dickinson College and set up on campus, on the corner of West and High.  Many thanks to the AAUW Carlisle and Cumberland Valley Rising volunteers.  Thrilled to have Mayor Tim Scott volunteer!
It was parents' weekend.  Which means we had fun strategizing with Dickinson students (and their parents) about where to vote–home or here. Answered many questions about the absentee ballot process. Glad to provide this community service to Carlisle.
Back to School Bash — August 18, 2018
AAUW Carlisle registration events continued in an effort to register and motivate as many new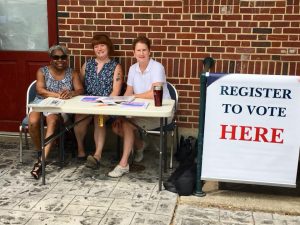 voters as possible prior to the November General Election.
On Saturday, August 18th, several of our members joined Hope Station at their Back to School Bash to assist in voter registration activities.  The day was a success with new voters registering during the afternoon festival.  Thanks to all of our volunteers
Black History Festival — February 24, 2018
Enjoyed talking to friends and registering voters at the Hope Station Black History Festival at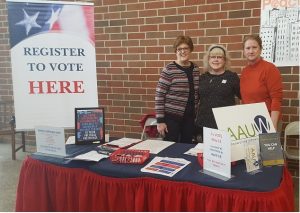 Hamilton Elementary School. We asked young children if they were registered–which opened the conversation with their parent/s.  Answered voting related–or not–questions which means we are viewed as a credible information source.
Two members of the  Hope Station Women's Group walked the corridors and registered three voters.  We look forward to collaborating with them on future events.
Joining Forces with Hope Station Women's Group — February 13, 2018
Preparing for voter registration at the Hope Station Black History Festival on February 24th, AAUW Carlisle trained members of the Hope Station Women's Group who will volunteer at the AAUW Carlisle voter registration table.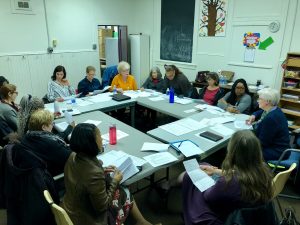 Ann Pehle, AAUW President, provided an overview of how to register voters and hold a registration event.  Many great ideas about how to engage voters for the primary and general election were discussed.  It is going to be an exciting collaboration!
Harvest of the Arts Voter Registration — September 23, 2017
We are all set and ready to go.  This is our fourth year registering voters at Carlisle's Harvest of the Arts on September 23.  For the second year, we are in front of the Bosler Library–which is now our new favorite place.  And, we have the preparation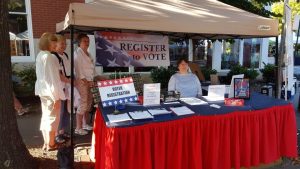 down, meaning we had time to spare before the official start.  Volunteers from AAUW Carlisle, League of Women Voters, Cumberland Valley Rising, and the AAUW Dickinson College we registered 18 voters.  Just as important, we answered dozens of questions and highlighted the importance of making our voices heard by voting on November 7.