Our guest speaker is The Rev. Sandra L. Strauss, Director of Advocacy and Ecumenical Outreach for the Pennsylvania Council of Churches.  Sandy's role is to assist congregations with their advocacy as well as "lobby" for issues important to the members of the Pennsylvania Council of Churches.  When asked about the topic,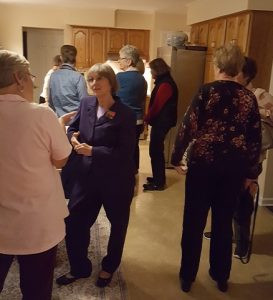 Sandy said, "What I would emphasize simply is that we say that our advocacy is guided by our understanding of what scripture calls us to do and positions taken by our member denominations. When we act based on our faith and moral/ethical convictions and not on the dictates of a political party, we are engaging in non-partisan advocacy."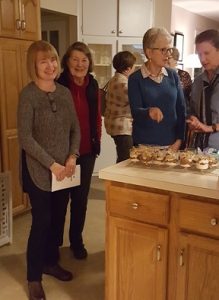 AAUW is a non-partisan organization, focused on issues outlined in the Public Policy Priorities.  Presenting issues in a non-partisan manner, especially to a very partisan elected official, has its challenges.  Yet, we must engage with elected officials to move forward the issues important to use.  Equal Pay legislation will not get passed without all of us having multiple conversations with legislators.  The AAUW Carlisle Public Policy Committee thought this was a great discussion for Topic Talk.  Recommended pre-reading was:
Sandy provided insights into her work, talking about her role in assisting congregations with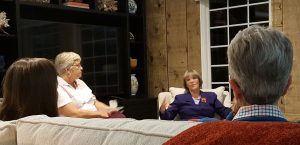 their advocacy and lobbying for issues important to the members of the Council of Churches.  She came loaded with a wealth of information and knowledge.  Several key points and tips discussed included:
It is important to work within a framework of guiding principles and priorities (such as AAUW's Public Policy Priorities).
Build relationships in advance.  Get to know your representatives AND, importantly, their staffers!  Also, reach out to local media representatives so they know you well and consider you a credible and reliable source.
Find willing partners within your community that have similar objectives.  You will find strength in numbers and often more and better ideas!
Always advocate for issues, not parties or political candidates.
Organizations who want to be non-partisan must be careful in how they talk about things.  A non-partisan organization cannot sponsor a political candidate or align with a political party.
A personal visit with legislators or their staffer is the most effective way to advocate for your issue.  Next is a personal note or letter.  Handwritten letters get the most attention for some reason.  Phone calls also work.  Emails work too but they should be written in your own words rather than just a copy of someone else's.  If possible, interject personal experiences or stories that reflect the position you want to get across no matter the format of your communication.
There was a great discussion around these and other concepts and experiences.