AAUW Carlisle recognizes the importance of education in helping women advance and is proud of its tradition of assisting women with this goal.  Each year we are pleased to award at least one $1500 Higher Education Scholarship to a woman student from Cumberland County currently attending any institution of higher education.  Past recipients have included non-traditional students, women in doctoral programs, associate degree and nursing programs as well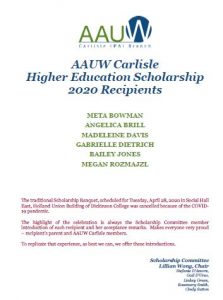 as those in bachelor degree programs.
We are pleased to introduce the 2020 Higher Education Scholarship Recipients.  In lieu of holding our Scholarship Banquet in April (victim of COVID-19 lockdown), we published this summary — 2020 Higher Education Scholarship Recipient Introductions.  Read to learn more about these amazing women we are so pleased to honor.
META BOWMAN
ANGELICA BRILL 
MADELEINE DAVIS 
GABRIELLE DIETRICH 
BAILEY JONES 
MEGAN ROZMAJZL
Check back in mid-October 2020 for the application for 2021 scholarships.  Below are the qualifications for the 2020 scholarship — to give you an idea for 2021.  Exact dates swill change for 2021, but the months will remain the same.
Qualifications for AAUW Carlisle Higher Education Scholarship
A female resident of Cumberland County, PA for at least a year.
Successful completion of at least one year of college.
Demonstration of financial need.
Enrolled in an educational program that upon completion fulfills AAUW membership criteria.
Submission of completed application (see below), an official transcript with school seal; and personal statement by January 14, 2020.  (date will change for 2021)
Attend an in-person interview in Carlisle the weekend of February 15, 2020.  (date will change for 2021)
Successful applicant is required to attend the Scholarship Banquet (Tuesday, April 28, 2020 at 6:00 pm in Carlisle) (date will change for 2021) in order to be eligible to receive the scholarship award.  At this event, scholarship recipients will present educational and career goals to the AAUW Carlisle membership.
Recipient agrees to allow AAUW Carlisle Branch to use her name, picture, and/or biographical information for publication.