We are busy all year round.  This is what we are up to this fiscal year — July 1, 2019 — June 30, 2020.  Go to https://carlisle-pa.aauw.net/public-policy/past-activity/ for complete list of past events/activities.
Carlisle Area School District candidate forum — October 24, 2019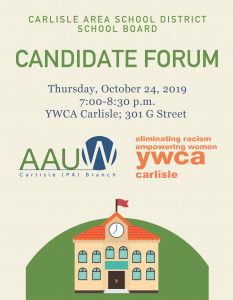 In advance of the November 5 general election, we are partnering with the YWCA Carlisle to hold a candidate forum.  All six candidates have agreed to participate.  There are five open seats.
Harvest of the Arts — September 28, 2019
For the sixth year, we registered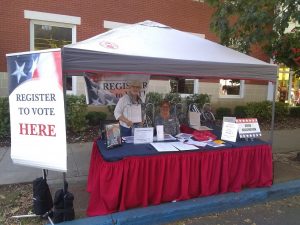 voters at the Harvest of the Arts Festival.  And, we returned to our favorite spot — in front of the Bosler Library, under the oak tree. Glad to hav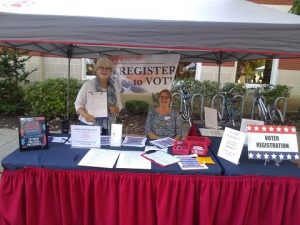 e a canopy to protect us from the dropping acorns!  We registered 30 voters; handed out many absentee ballot applications, and answered general questions about the process of voting.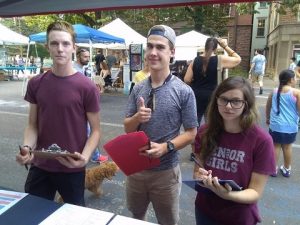 It was parents' weekend.  Which means we had fun strategizing with Dickinson students (and their parents) about where to vote–home or here.
Hope Station Community Ice Cream Social — September 2019
At the invitation of our friends at Hope Station, we registred voters at their recent Community Ice Cream Social on September 10th, signing up 10 new voters in just a couple of hours!  Many thanks to our volunteers.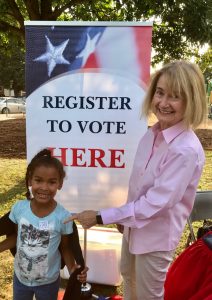 ---
Public Policy in AAUW Carlisle Branch
Carlisle Branch works locally to advance the AAUW member-endorsed Public Policy Priorities  addressing policies that break through educational and economic barriers for women.  Specific areas of work are GOTV, Title IX, and Equal Pay.  We collaborate with other organizations in the community, including the League of Women Voters, YWCA Carlisle, MomsRising, Fair Districts PA, and Dickinson College.
Check out what is happening across Pennsylvania and the awesome resource pages at http://aauw-pa.aauw.net/policy/.