We are busy all year round.  Go to https://carlisle-pa.aauw.net/public-policy/past-activity/ for complete list of past events/activities.
January 19, 2019 — Women's Rally on the Square
Thrilled to be the catalyst for this event and honored to work with awesome co-sponsors.  Check here for more information.
October 18, 2018 — 10th Congressional Debate
Televised by WGAL with lots of AAUW mentions.  And a watch party at Bosler Library.  Click here for full details.
October 5, 2018 — 199th Candidate Forum
AAUW Carlisle partnered with YWCA Carlisle to host a candidate forum for the 199th Pennsylvania House district.  Look here for a full account.
August 7, 2018 – Simple Truth Equal Pay Event
AAUW Carlisle partnered with Hope Station, Bethel AME Church, and the YWCA Carlisle and held a community meeting on August 7, 2018, Black Women Equal Pay Day, which spotlighted gender pay inequities, in particular for women of color. The evening was a success with interested attendees signing up for Action Alerts in order to stay informed and engaged with  this issue from a legislative perspective. And, organizers are already planning how to bring Work Smart, AAUW's salary negotiation workshop to Carlisle.  Look here for the full account.
September 22, 2018 – Voter Registration at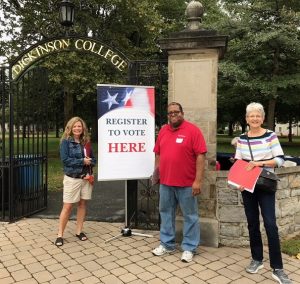 Harvest of the Arts
Twenty eight volunteers from AAUW Carlisle and Cumberland Valley Rising manned clipboards and mingled with the crowds to sign up voters before the Oct. 9th deadline.  Always fun to strategize with DIckinson students about where they should vote–home or here.  Answered many questions about the absentee ballot process.  Fun day providing this valulable civic outreach.
---
Public Policy in AAUW Carlisle Branch
Carlisle Branch works locally to advance the AAUW member-endorsed Public Policy Priorities  addressing policies that break through educational and economic barriers for women.  Specific areas of work are GOTV, Title IX, and Equal Pay.  We collaborate with other organizations in the community, including the League of Women Voters, YWCA Carlisle, MomsRising, Fair Districts PA, and Dickinson College.
Check out what is happening across Pennsylvania and the awesome resource pages at http://aauw-pa.aauw.net/policy/.