Successful organizations understand the past and plan for the future.   This page reports the strategic plans for AAUW, AAUW Pennsylvania, and AAUW Carlisle.
AAUW
AAUW launched the new strategic plan — Beyond Aspirations: Advancing Equity for W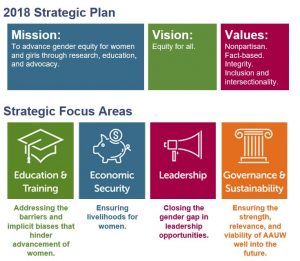 omen and Girls — in August 2018.  After a thorough process, engaging thousands of AAUW members from across the country, the Strategic Planning Task Force presented the plan to the AAUW Board of Directors where it received unanimous approval.  Now, AAUW members must bring the plan to life.
With the Mission, Vision, and Values as foundation, four Strategic Focus Areas were identified.  Each focus area identifies audacious and exciting goals.  The announcement email from Kim Churches, AAUW CEO, highlights a few.  If you didn't read the email or don't remember, it is worth taking a minute to do so.  Read the full strategic plan to learn about our future together.  And, when you get to page 11, smile when you recognize a photo.
Keep current on status at https://www.aauw.org/who-we-are/strategic-plan/.
AAUW Pennsylvania

The AAUW Pennsylvania Board is currently developing their 2018-2020 strategic plan.
AAUW Carlisle
In June 2017, the AAUW Carlisle Board launched strategic planning.  Discussions about the purpose and direction of the branch spanned three meetings, including two Saturday mornings.  As leaders of the branch, we believed it was important to have a vision and share common goals for the branch.  The plan and results are in 2017-2018 Strategic Planning updated with Actions.  The many goals we accomplished as a Branch are noted in the footnotes.
In June 2018, we continued the strategic planning process by asking four questions.
What do we want AAUW Carlisle to be known for?
Goals for the branch.
Goals you have for your role/position.
Items you would like a peer to set as a goal.
At the October Board meeting, we prioritized the goals for the Branch.  Each attending Board member had three votes to award to goals.  We will begin exploring those with 4 or more votes.  Those are below.
Create ad hoc fundraising committee to explore fundraising needs and new ways to raise money
Diversity
Recognize girls excelling in math and science
Conduct member survey
Investigate holding Work Smart salary negotiation workshop
Please read the AAUW Carlisle Strategic Plan 2018-2019 Branch Update document and share your thoughts/comments at aauwcarlisleinfo@gmail.com.  Progress on the plan development will be shared here and with members.