AAUW Carlisle branch was founded on May 10, 1924 on the campus of Dickinson College.  The story of our founding features determined women and a persistent college President.  To understand our close relationship with Dickinson College and the new phrases shared with a smile–"militant feminists" and "feministic shenanigans" — please read the story.
We celebrated on Tuesday, May 28th at the Cumberland County Historical Society.  Over sixty-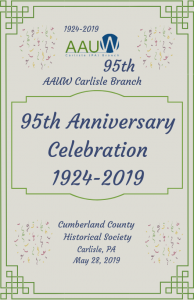 five members and four honored guests enjoyed good conversation, food, drink, and program.  Below are some memories, highlights, and photos.
The evening was made more special because we were able to honor and thank our guests.
A harpist and four flutists added a rich texture to the social time.
Food and drink was delicious.
Catching up with friends or meeting new — the Social time was enjoyed by all.
We recognized Past Presidents who are current members.  And all members who have ever served on the AAUW Carlisle Board.
To honor our past, the 95th Committee embarked on an ambitious project – to capture the oral histories of twelve members.  To each of you, thank you for sharing your stories and insights for this special project.  All interviews are compiled in A Collection of Oral Histories.  Some interviews were videotaped by Tanner Hench.  Honoring Our Past, the video created by Tanner was shown.
Then and Now was presented by Ann Pehle, AAUW Carlisle President.  After an overview of our founding, the presentation highlights the militant feminists doing feministic shenanigans.
Members Awards were presented to very deserving and surprised members.  See June/July 2019 newsletter for full description.
Outgoing board officers were recognized and new officers for 2019-2020 were installed.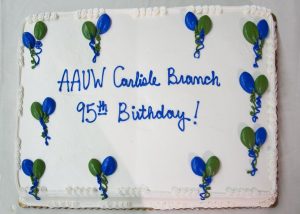 The evening ended with cake!
Many thanks to the 95th Anniversary Celebration committee for a wonderful evening!