You never know where you will find AAUW Carlisle!
Army War College Welcome Expo — August 9, 2017
For the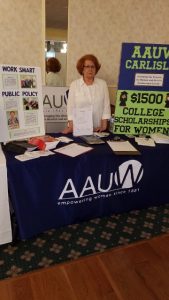 second year, AAUW Carlisle participated in the Army War College Welcome Expo.  Each year, the Army War College welcomes students and their families to Carlisle for the one year course.  To introduce the families to Carlisle and visa versa, an expo is held on the Army Barracks.  Amidst tables of service providers–orthodontists, photographers, salons, bed and breakfasts, restaurants, banks–AAUW shares a different story.  As a membership organization dedicated to the AAUW mission, we provide a place for persons looking for a different connection to the community.  We have fun introducing AAUW's unique message.
Buck a Book January 9, 2017
AAUW Carlisle participated in the Buck a Book kickoff at the Carlisle Expo Center. The Buck a Book Literacy Campaign raises funds for adult literacy programs while inspiring K-5 students in the Carlisle Area School District to read and get involved in the community. Buck a Book Kids read lots of great books while gathering ple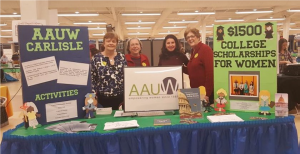 dges of support for adult literacy. All money collected helps fund adult education programming provided to the community by the Employment Skills Center.
Our table featured coloring pages for children and AAUW materials for parents. One of the pages was designed by our own new member, Virginia Mueller. While the children were selecting their coloring page our attending members had an opportunity to engage parents in topics related to AAUW goals such as gender pay equality and the Work Smart programs. Much information was passed along. We are hopeful that the interest generated may lead to new visitors attending our meetings and Work Smart programs