Become a Stream Team Volunteer
AAUW Carlisle member, Holly Smith, is the program manager for the LeTort Stream Studies program, a collaboration between Carlisle Area School District (CASD) and Audubon Pennsylvania to provide 2nd, 5th and stream ecology field experiences for seven elementary and two middle schools.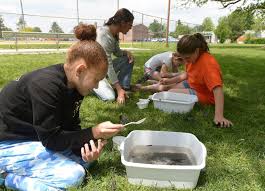 The Stream Team assists with field activities, including guiding students' discovery of aquatic insects and stream habitats, and helping them investigate the concepts of water quality, non-point source pollution/stormwater, erosion, land use, wildlife habitat, and conservation including the value of streamside vegetation. Tasks may also include fetching aquatic insects, working with native plants, helping with streamside clean-up, and/or caring for field equipment.
No stream ecology knowledge or experience needed.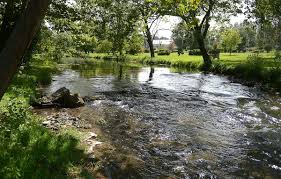 New volunteers are trained and paired with experienced volunteers, and are only given tasks with which they are comfortable.
Time Commitment:
2nd & 5th grade: usually ~8:30am—noon weekdays on days the field trips are scheduled.
7th grade: ~7:30am—2:30pm weekdays on days the field trips are scheduled.
Volunteers choose from the schedule when they wish to help. You fit this to your schedule.
Spring field trips take place late April through May 30.
More details in program brochure.  Contact Holly at hsmith@audobon.org for more information or to volunteer.